Workflow Automation: Essential Guide to Box Relay for Small Business
Your team previously handled most of the business workflow manually. Whether it was document circulation, invoice approvals, taking follow-ups from clients, or other tasks, you spent hours performing these business processes every day.
Now, you want to digitally transform your business. 97% of IT professionals claim that workflow automation is vital for digital transformation. 
With the aim to become a truly digital enterprise using process automation, you found out that Box Relay has features that can help you automate repetitive processes related to document and content management. 
Process automation indeed drives growth and efficiency. In fact, nearly half of all business automation processes are focused on driving business growth. But to efficiently automate your business with Box Relay, you have to break down the complexities and processes to take advantage of the features offered.
In this article, I'm going to guide you through Box Relay,  how you can automate processes in your business, and answer if Box Relay is really the best option out there in the market.
What is Box Relay?
If you are also in awe of what you can do with Box Relay but don't know everything about it. Let me tell you that Box Relay is a cloud content management software to help you get work done faster with workflow automation. 
Box Relay will handle your entire workflow from end to end eliminating the work pressure of carrying out repetitive business tasks day in and day out. 
With Box Relay, you can automate complex business processes like contract approvals, content collaboration, budget approvals, and employee onboarding to provide a seamless experience to your clients.
You can check out this video presentation from Box to know what Box Relay really can do for your business.
Key Features of Box Relay
Box Relay is a box full of chocolates. You'll find many exciting features that will simplify document management for you. 
With this advanced tool, you can successfully reduce manual work and automate repetitive tasks. 
There are many notable features in Box Relay that business operation teams love.
Event-triggered Actions
Box Relay has a trigger-based workflow automation process. 
You can initiate an event in your workflow with trigger actions like user response, regular schedule, metadata event, or on-demand.
Box Relay has several more triggers to start your workflow automation:
File Events
Folder events
Task events
Manual start events
File Request events
Relay Box also comes with workflow templates to help you with ready-to-use automation.
Workflow Management
Your team was losing precious productive hours on sending follow-up emails, collecting documents, and doing other repetitive tasks. 
Box Relay Workflow management automates processes and tasks so that your team can focus on doing productive things.
Workflow Templates
Box Relay has a plethora of workflow templates for you to choose from dispensing on your business. You can also make changes to these workflows as you see fit. 
Pre-built workflow templates can help you simplify the task of building workflows and speed up workflow automation. 
If you don't find your workflow in the templates, you can create your own custom workflow.
Activity Tracking
Box Relay lets you keep track of the progress of workflows you and your team have created. 
You can keep a tab of in-progress and completed client tasks and also analyze their audit history.
Conditional Logic
Conditional logic provides you the ability to initiate actions based on metadata field attributes. 
The "If this then that" trigger is designed to simplify the automation process for you with "no codes". 
For example, if you have to sign a contract below $20,000 you can send the contract to your team leader. And if the contract is for more than the set limit, you can send it directly to your CFO. Using conditional logic this can be done in simple steps. 
Conditional logic allows your team to build and edit new processes with ease and in no time.
How to Use Box Relay?
Box Relay is an integral part of Box's core platform. If you have an existing Box account, you'll find Box Relay on the left dashboard of your screen. 
To automate business processes, you can create a workflow or make changes to existing workflows. 
When you click on the Relay option on the dashboard, you will see all your workflows listed on the screen.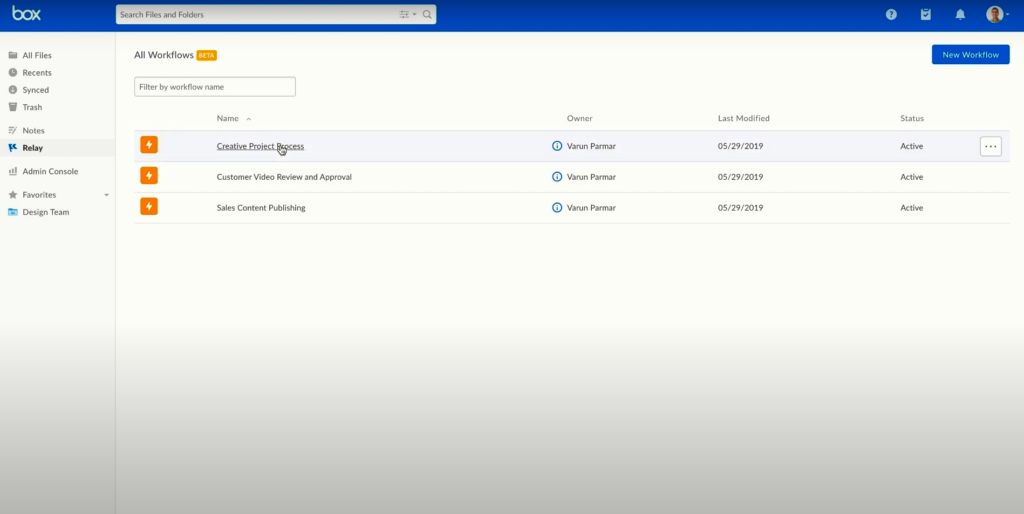 Once you click open your workflow, you get  to the Builder View screen of the Box Relay.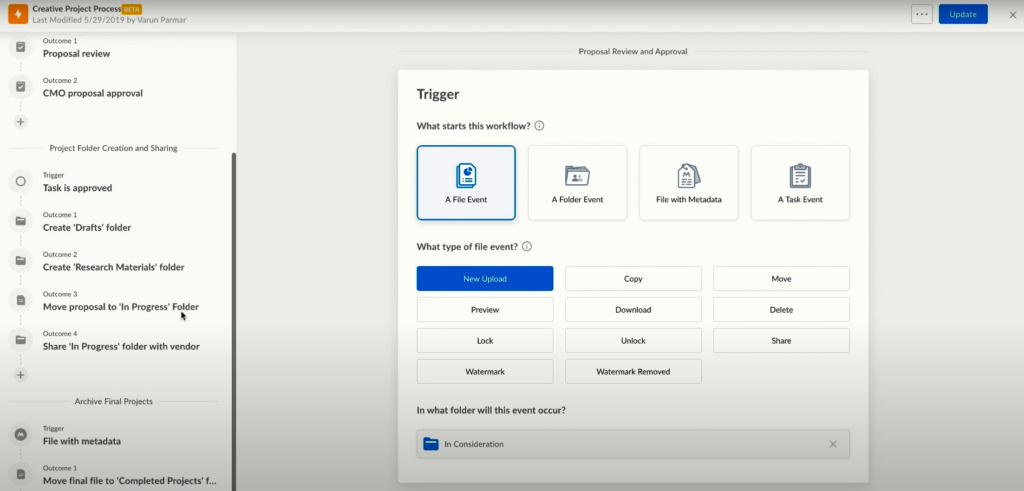 On the left of the screen, you have a summary view of your workflow and in the center, you can modify the different steps of the workflow. 
In this example, first, we will create a workflow and a file request to send to potential vendors for RFPs and then review their submissions to decide whether or not to do business with them. After the decision is made and the project is completed, we will also assign the accounting team to generate an invoice for the vendor. 
So, let's go!
STEP 1: Create Your Workflow
Click on the Relay option in the dashboard. You'll find here all the existing workflows.
Now click on the New Workflow button on the top-right of your screen to create a new workflow.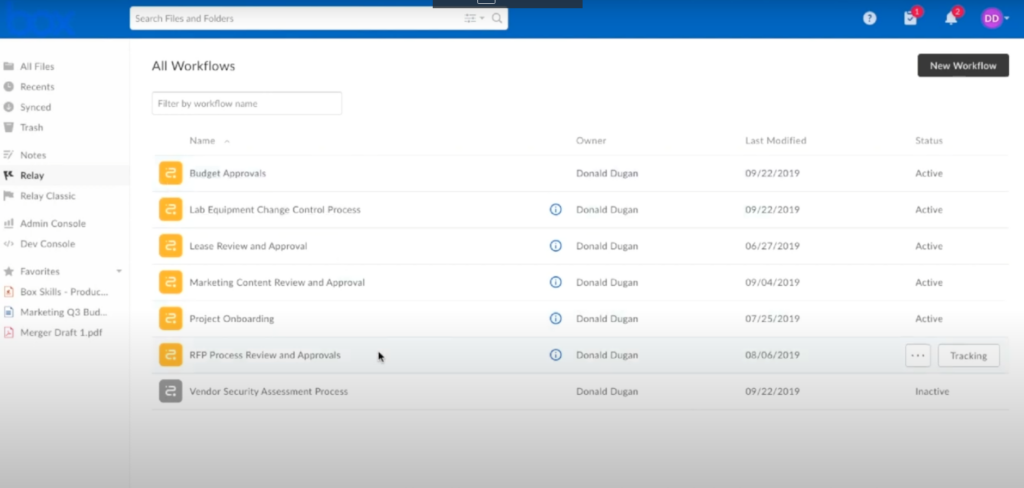 You can also use a pre-built template and start modifying it according to your need.
A workflow builder page will open where you can create a title for the workflow, add a description, and add flow, triggers, and outcomes.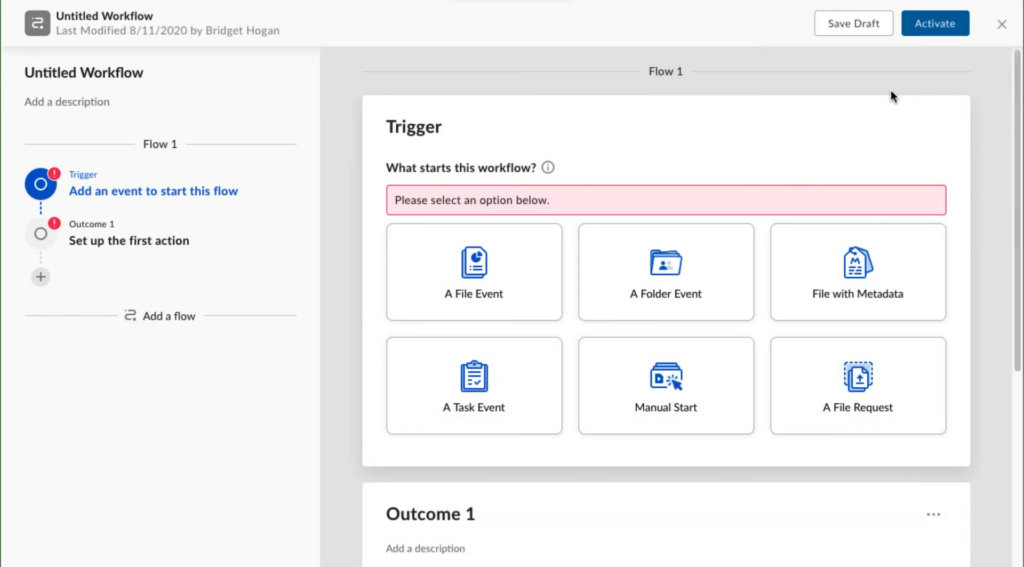 You can design your workflow to simplify your business process as much as possible.
STEP 2: Create Your File Request
You can make changes to your file request settings. To do so, right-click on your selected folder and select File Request.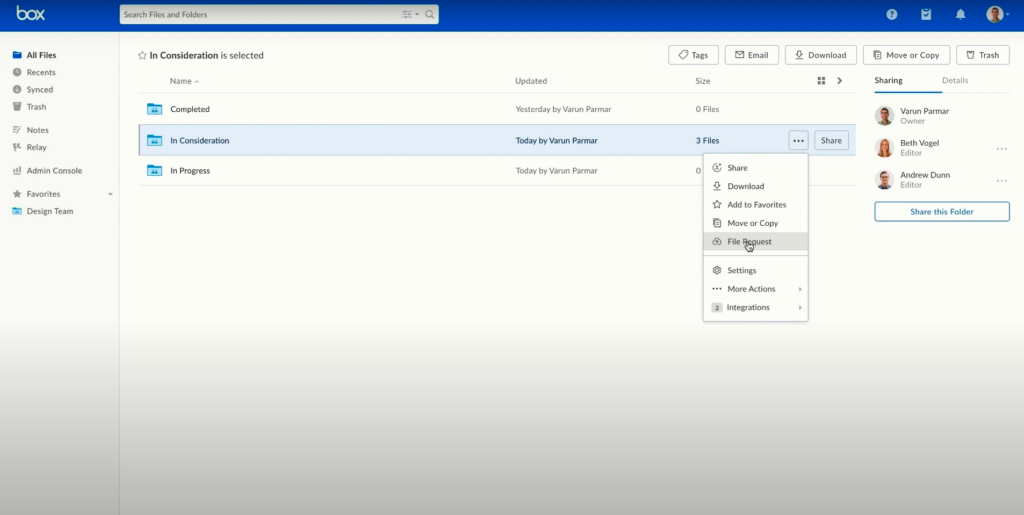 A pop-up appears on your screen with a file request link, embed code, and customizing options.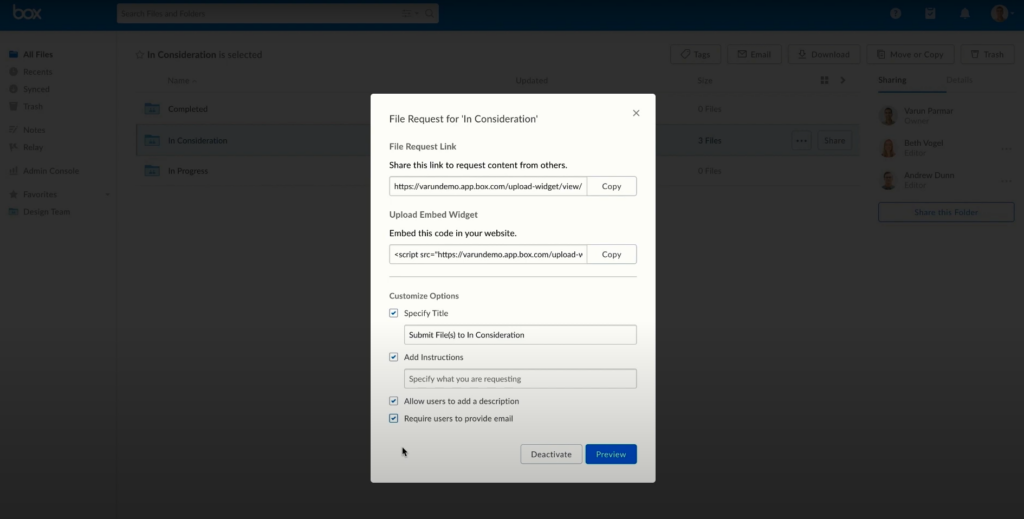 Your File Request link will generate a tab that may look something similar to this.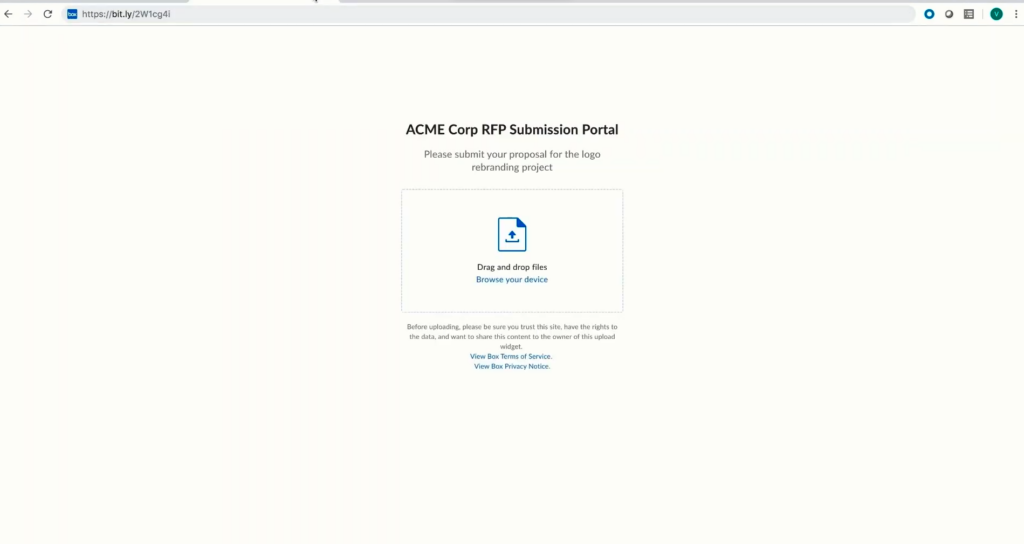 Your vendors can upload their RFPs on this File Request link.
STEP 3: Review and Approve/Deny
Once your prospective vendors submit their proposals, you will receive a notification on your Box account.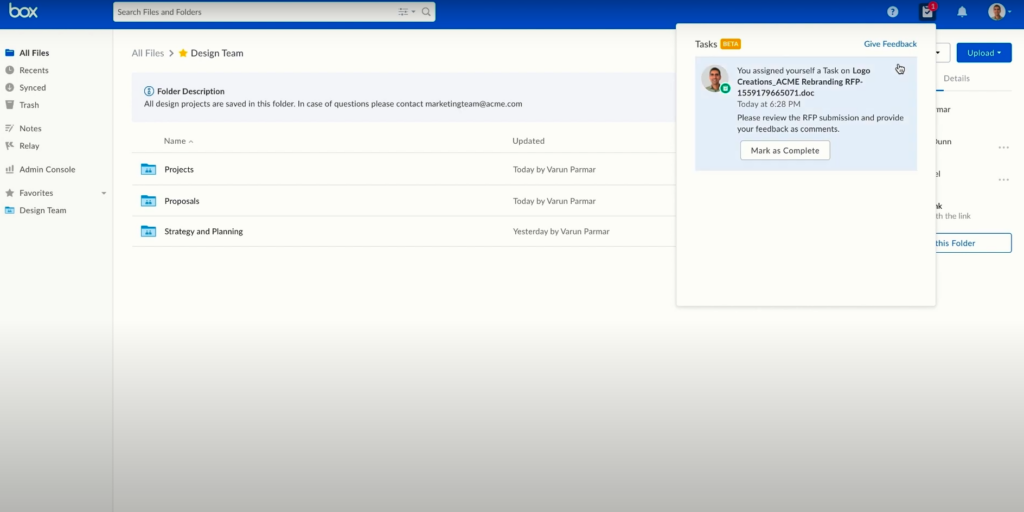 Once you and your team approve the proposal, your workflow trigger will create an onboarding folder for the vendor. It is here where you can interact with the vendor.
STEP 4: Onboarding and Start the Project
In this folder, the vendor can submit their submissions and you can review them and share details of the project.
Once you check the submissions and are satisfied with the result, you can start a metadata trigger by marking the status of the project as final.
This will assign a task to the accounting team to pay for the invoice. And the trigger will move the approved file to the completed folder of the project.
STEP 5: Project Completion
Now your account team can pay for the invoice and the project is completed.
How Much Will Box Relay Cost You?
Box Relay is available in the business plans of Box. 
You can choose between the Business plan starting at $20 per user every month, the Business Plus plan which will cost you $33 for every user per month, and the Enterprise plan for which you will have to pay $47 per user every month.
Now that we know how you can automate workflow with Box Relay and how much it will cost you. Let's understand the pros and cons of using Box Relay in your business.
Workflow Automation with Box Relay – The Good
Powerful Functions for Your Business
With Relay, you can change time-consuming manual business processes into a fast and efficient automated workflow. 
The conditional 'if this then that' logic, easily navigable interface and wide range of triggers allow companies to automate business tasks quickly and efficiently.
You can achieve a variety of outcomes with workflow triggers like task completion, file upload, metadata event, and more.
Quite Simple to Use
Box Relay has an intuitive and simple-to-use interface on which you can easily set up automated workflows from your Box platform itself. 
Also collaborating with clients is simple with Box Relay as you only have to send an email to get started.
Visibility Improvements and Access Control
You can get real-time visibility into the status of the workflow with a downloadable audit history. 
You can also share your workflows with your team members or edit and manage workflows created by others in your team.
Tons of Integrations
Box Relay has pre-built integrations like Slack, Office 365, Google Workspace, etc. to make your workflow handling an effortless task. 
Box's Cloud Content Management platform also benefits Relay and provides security and compliance.
Workflow Automation with Box Relay – The Bad
Costly in the Long Run
Box Relay which offers a workflow automation function is only available with Business plans. 
The annual cost for the lowest end of the Business plan is $180. You may find some Box features missing in this plan. 
To get an Enterprise plan, you may have to pay $420 yearly. 
Users have to pay $300 for their most popular Business Plus plan. 
However, there may be additional costs when you add more users to your plan or you need more storage space. 
You also need to integrate your Box Relay account with other business tools to efficiently and seamlessly manage your workflow. 
You may have to pay for integrating apps as well which  increases your overall cost. 
Thus, it is clear that Box Relay can turn into a high price bargain for small businesses.
Limited Document Control
When the user on the other side, submits a document, they have no control over the documents any longer. 
They can not change the document if there's any mistake without requesting you to discard their old submission. 
The platform also provides limited document editing capabilities. 
This gives little or no control in the hands of the end-user. Also, once you receive a document with errors, you will need to go review and then reject the document. You will request the client to upload their final document again. Long process, right?
It is not a scalable way of handling documents for a growing company.
Web Browser and Sharing Options Ask for Change
When you open Box on a web browser, you will find it not intuitive. 
The platform usually becomes slow when dealing with large files making it almost impossible to exchange large amounts of data.
The platform demands high internet speed and working on a poor internet connection is next to impossible. 
It is not convenient to share a file with a non Box user. 
After all this, you will have one question in your mind–
Is Box Relay the Workflow Automation Tool You Should Get?
Though the decision is yours to make, in my opinion, there are better and more efficient tools to automate your workflow without you having to intervene at every step of the process.
Yes, Box Relay is popular and goes well with Box's other features like storage space and big file upload size. But other workflow automation tools do a much better job at a lower price and when it comes to storage, other tools are more effective. 
If you are looking to build efficient and seamless workflow automation for your business processes, a dedicated and sales-driven solution will bring higher productivity and help you grow your business systematically.
Automate Your Workflow with a More Powerful Automation Tool like Clustdoc
Clustdoc is the best in-line workflow automation tool that does much more than only collecting client documents and automating one action after another.
First let's understand how automation works on Clustdoc (No confusing details, it's straightforward).
Automating your workflow is a matter of just a few clicks on Clustdoc.
It is that simple and quick that we have intentionally left half of the video blank just to tell you it doesn't take that long, you see.
Learn how Clustdoc automates your entire workflow from end-to-end with these features:
Simple Triggers and Actions for Easy Automations
You don't have to do much to automate your workflow. It is simply choosing the right trigger for your desired action. 
Clustdoc comes with a complete library of automation rules you could use to put your work on autopilot:
Reminder emails and SMSes? Super easy.
Automated approval of submitted files? No problem.
Notifications to various stakeholders, whether external or internal? Alright.
Want to build form automation and auto-populate data? Yes, we can.
You get a list of automation triggers on Clustdoc, you can select your desired trigger from them.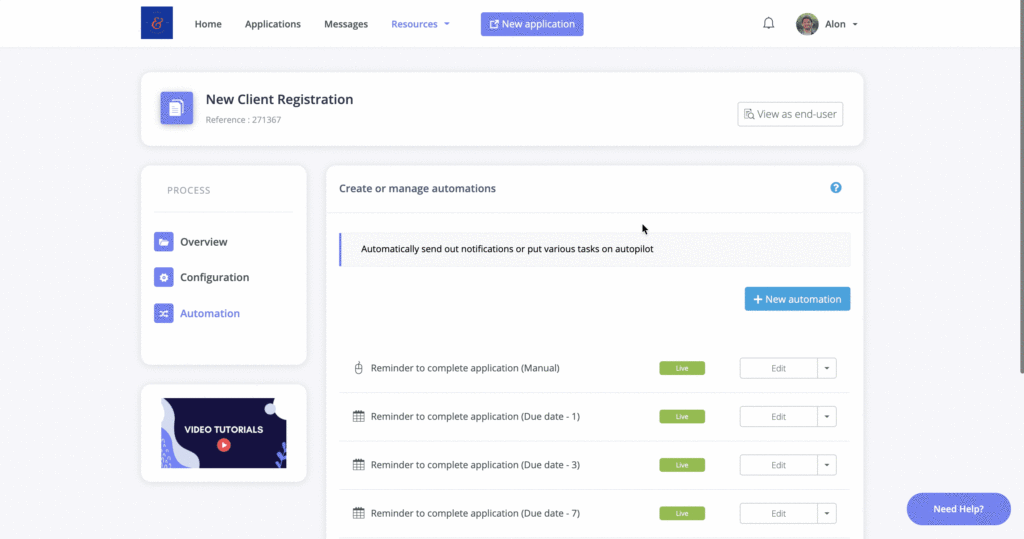 You can combine our triggers to create various automated actions based on your needs and create unlimited rules for your workflows.
And It's done, see it's simple to automate your workflow without any mumbo-jumbo.
Online Form Builder, Smart Checklist, Files Request, Client Messaging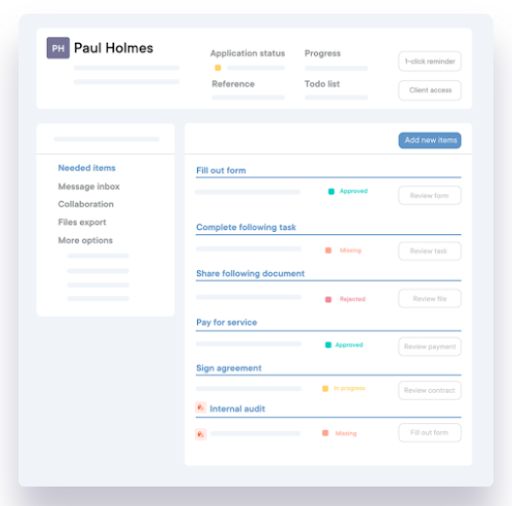 With these top-of-the-line features, Clustdoc provides you with complete control over your business workflow. 
You can build online forms or customize anyone from a huge list of Clustdoc templates. 
You can guide clients' submission process with a smart built-in checklist. And if you want to request clients to submit files send them a personalized file request or message. 
Clients can now submit files in their own time. And Clustdoc saves their information for their next visit.
Files Approval/Denial, Automated Reminders
Once your clients have submitted their documents, you can review the files Clustdoc has organized for you and approve or deny files easily.
You can also send automated reminders through email or SMS to your clients and take follow-up on the submission process.
E-Signature and Online Payments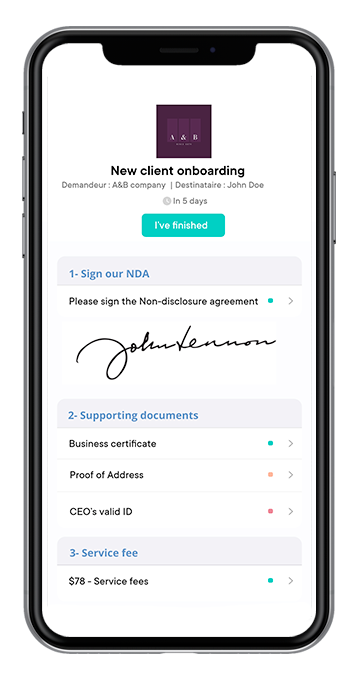 You can collect legally binding e-signatures from your clients on the Clustdoc platform.
Once documents are electronically signed, any changes made to the document will void the document safeguarding you from any fraud and legal implications.
Your clients can pay from the same platform using their favorite credit cards from anywhere in the world.
Comply with Security Regulations
When you collect client data, it is crucial to comply with security regulations and leave no stone unturned when it comes to client data safety.
Clustdoc is a GDPR compliance platform which means it adheres to strict rules when it comes to data protection.
Integrate With Other Tools
You can integrate Clustdoc with your favorite cloud storage solution and store your documents directly into your cloud space. 
You can integrate Clustdoc with project management tools and other business tools to make your work even easier.
Try Out Clustdoc Today to Put Your Business Workflow on Autopilot
With Clustdoc, you have a comprehensive tool to organize and automate your document collection and onboarding process in an innovative and collaborative way.
Improving productivity while empowering your team is now possible with Clustdoc.
If seamless and efficient workflow automation is your priority, Clustdoc is the choice for you.
To get started with document collection and onboarding on a safe, secure, and automated platform, visit Clustdoc.
Now that you're here
Clustdoc is a client onboarding orchestration platform used by modern teams around the world. With Clustdoc, you can run automated workflows for requesting, reviewing and verifying new customers' data, documents and contracts – without juggling between tools. 
If your team is managing new customers using emails, spreadsheets and PDFs, you'll probably love using Clustdoc.
We are sorry that this post was not useful for you!
Let us improve this post!
Tell us how we can improve this post?