The global pandemic has drastically changed the way people evaluate new services and purchase them online.
Today's buyers understand what client onboarding is and it's a crucial decision-making factor for them when choosing a service. They are more knowledgeable, more demanding, and also harder to please when considering a new service. They research, compare, verify and compile enough data to make a solid decision without much help.
Our screens have made business relationships less personal and the risk of fraud has grown bigger in any transaction. This is a real challenge that vendors must take into consideration.
Which means that, as a vendor, you're no longer here to just sell.
You'll need to wear dozens of different hats to understand client needs, establish trust, and catch your buyer's attention before, during, and even after a sale.
Listen to them, share advice, answer questions from them or other stakeholders, remove roadblocks, negotiate deliverables, gather useful information, request documents or more clients data to verify them and come up with the best offer, and close your deals… that's a LOT of work
!
This gradual shift in digital buying behavior has made client onboarding automation one of the pillars of modern sale processes – It helps provide better customer experience while increasing customer retention and loyalty.
But then again, what really is client onboarding?
Is it worth investing in? Is it hard to implement? Where should you start? Can it be automated?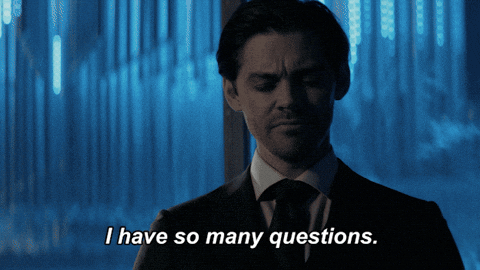 Read our guide to answer all these questions. We'll cover everything you need to know about client onboarding, including how to plan it, how to implement it in your department, and how to systemize it for higher ROI.
What is client onboarding?
Client onboarding is a set of activities that you, your team, and stakeholders must perform to deliver one of your services or products to a new customer or business partner.
During the onboarding phase, your project management team will make sure they thoroughly understand your client's goals, background, and wants.
For example, you can have a kickoff call with the client's point of contact and then send a welcome email with a needs list to gather data and files from the client so that you can get to setting expectations and initiate the project.
All these recurring activities and tasks, which frequently include a lot of back-and-forths, must be completed with each new client as part of the onboarding process.
Using a client onboarding system, you can create a memorable first impression and onboard new clients systematically and efficiently.
Client onboarding is one of the best ways to establish a strong client relationship. So it comes as no surprise that it's also one of the best investments for companies that want to win customers repetitively and securely.
However, few companies know exactly how to get it right. They are making many mistakes that's holding them back. Here are some common misconceptions about client onboarding that you should know about in order to avoid making the same mistakes.
Some misconceptions about client onboarding
Misconception #1: Client onboarding is just for bigger corporations.
For a long time, client onboarding was a topic that only bigger corporations cared about.
But, that's no longer the case.
Today, if a buyer looks for your services on a browser, your website could actually rank next to one of your bigger competitors. For a simple buyer, it wouldn't really make any difference, and they will still compare your service offering to any other service provider that they come across online.
Let me put it this way, in today's digital world, companies can now compete on a global stage. This means that small businesses must adapt much faster to secure clients.
But how do you go about it?
Here's the good news: There are client onboarding tools that make the client onboarding process just as viable for the SMBs.
There are expensive options built for Fortune 500 companies, but just as many affordable tools that SMBs can utilize.
Misconception #2: I need a tech team to design and implement a custom client onboarding.
That's not true. Client onboarding is a company-wide system that supports your team's daily activities. It can totally be managed using a dedicated tool specifically built to design and run such workflows.
There are plenty of low-code solutions that will allow you to build a powerful client onboarding workflow without having to hire a dev team. So yes, you can build an end-to-end successful client onboarding process today without any help if you have the right tools.
Misconception #3: Client onboarding requires a lot of manual tasks. It can't be automated.
Most SaaS solutions can automate manual tasks step-by-step. That's also the case for any client onboarding software.
They are built to remove repetitive tasks from your workflows and transform all routine tasks into automated actions so you can focus on what really matters: your clients.
Misconception #4: I don't deal with clients, so I don't need a client onboarding tool.
Not true! Client onboarding is an approach that allows you to manage different types of people, including prospects, partners, vendors, students, or even employees.
It's pretty much the same as a Customer Relationship Management tool (CRM). It is oftentimes flexible enough to support any type of audience you need to manage and any procedure you need to run.
Misconception #5: I can onboard clients using a basic online intake form or emails, I am fine.
This misconception is causing many SMBs to lose clients. Why? Because it's simply not secure or scalable.
Forms and emails are not built to support client onboarding efficiently. 
Onboarding a new client is a repetitive process that takes time and requires streamlined communication, data and files management, as well as enhanced collaboration across the company.
It's not recommended to build a client onboarding workflow using several independent apps. This could provide a fragmented client onboarding experience, put your business at risk in terms of data governance, and reduce customer satisfaction levels. Also, you'll still lack visibility on how things are going for your team, preventing you from improving things and making data-driven decisions.
Misconception #6: I don't need a CRM if I use a client onboarding solution.
Yes, you do. A client onboarding solution is a complementary solution to a Customer Relationship Management (CRM) tool.
To make it clear, both solutions will help your team manage first-time prospects. While CRMs are a great tool used by the Sales team to keep track of all leads, client onboarding tools excel when it comes to conversion of prospects into customers and increase the chances of profitability by engaging them directly.
How does client onboarding work?
Let's put it this way. Client onboarding is a smart way to create customer-centric workflows that will help you convert your leads faster. It directly helps your sales team close deals reliably while engaging clients and increasing the customer success rate.
Using onboarding software, you'll  be able to guide new prospects through the client onboarding checklist. These checklists help your team to deliver services and provide lifetime value to the customers. These steps can include any of the following:
Fill out a new client information sheet

Share financial history overview

Send automated forms and questionnaires

Complete payment or subscribe to a service

Complete several tasks

Book a meeting with the sales team

Submit payslips

Read a brochure

Complete payment or subscribe to a service

Share ID of any beneficial owner

Sign an agreement along with 5 other stakeholders
Your client onboarding system will also allow you to create approval workflows to facilitate your team's work:
Review customer's supporting documents

Approve Identity documents

Reject on wrong files

Request additional supporting documents
To make sure your prospects are onboarded correctly, conveniently, and reliably every single time, you will need a client onboarding system.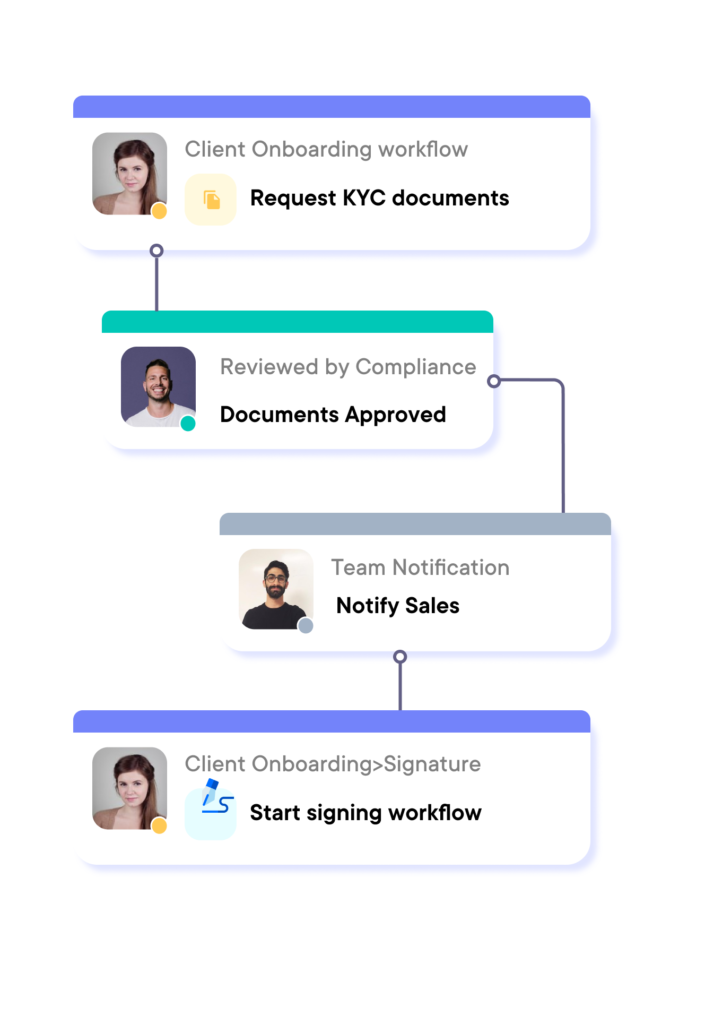 Let's imagine a client onboarding process for a financial planning firm. They launched a brand-new website and started getting some decent monthly traffic.
One client is interested in learning more about their services and fills out the contact form available on their website.
A sales representative receives a notification email with all the lead details and is excited to see that the client seems to qualify.
Using a client onboarding software, the sales rep will be able to start the onboarding process upfront.
With the help of the onboarding tool, the prospect will be able to book meeting, fill out initial information, and even chat with the team. This entire onboarding process helps create a good client relationship.
With the help of onboarding software, follow-ups are sent automatically to the prospect and the customer success team, making sure every task is completed on time.
Now, imagine what it would be like without a client onboarding tool.
Each Rep would have to chase prospects and teammates every step of the way, and it would be a nightmare to do this for dozens of leads day in and day out!
Without a client onboarding tool, working with your leads is difficult.
Your automated client onboarding will help you:
Automate document-heavy, client-centric routine workflows

Push leads down the sales funnel by engaging them directly

Remove repetitive tasks off your plate to focus on what drives value

Have clear visibility of your customers' actual engagement

Make sure everyone is on the same page and reduce churn

Make better decisions to help leads convert faster

Better track which sensitive data is collected from leads from who and when
Now that we have understood how automated client onboarding will help you, let's look at some examples of digital onboarding workflows you can implement in your business.
Examples of digital onboarding workflows you may want to automate today
Don't know where to start? Don't worry, we are here here to help. Here are 16 digital onboarding workflows you can automate today using a client onboarding system.
Client onboarding process examples
Customer onboarding is a great scenario for using client onboarding software. Common customer onboarding processes include service subscriptions from B2B clients for example.
Enterprise SaaS client onboarding
Startups can onboard corporate clients by setting up custom processes to guide each client through various steps to facilitate implementation.
Rental agencies can collect and screen a high volume of applications for each of their available lettings using a dedicated system to simplify the tenant onboarding process.
Lending companies that offer financing options to investors can use a dedicated tool to simplify the due diligence process.
Property Management companies that want to offer a smooth and premium experience to new landlords can use a client onboarding system to manage them.
Administrations, universities, and schools that need to manage the student onboarding process at scale and remotely can use the student onboarding system.
Realtors can use client onboarding software to onboard new sellers and verify their documents.
Mortgage Brokers can use client onboarding software to streamline the pre-qualification and application process.
Financial service companies can better manage and verify new clients in a compliant way.
Administrative onboarding
Public services can use client onboarding tools to register people for admin services such as car plate registration, a new driver's license request, etc.
Vendor onboarding process examples
E-commerce platforms can rigorously select potential merchants and ensure long-lasting collaboration.
Companies can build and grow a partner program and simplify the partner onboarding process.
Companies in the financial industry can register potential vendors in a compliant way.
Trade Show organizers can create a robust system to help future exhibitors apply, submit supporting documents and rent a location promptly.
Employee onboarding process examples
Recruiting and staffing companies can hire and verify a high volume of contractors so their clients can use an onboarding platform to automate this process.
Companies can streamline their new employee's administrative onboarding process.
These were some onboarding processes that can be implemented in businesses of different types and sizes. Head over to Clustdoc template library to find more than 150 digital onboarding workflows that you can use in your business to make the processes simplified and frictionless.
The Benefits of Having an Onboarding System in Your Business
Now that we've just covered 16 different onboarding processes that you can automate using a professional onboarding software like Clustdoc.
To help you and your team make that decision faster, here are some benefits of having an onboarding system. 
Benefits of implementing a digital onboarding system
A dedicated system allows team members to use a company-wide predefined workflow template to onboard new users in a unified way.
With professional software, managers can access an analytics dashboard and better monitor team performance.
Streamlined end-user experience
A digital onboarding system doesn't require building a website from scratch, it can be deployed within a couple of days and increases brand perception for end-users.
Fast ROI and Instant benefits for the business
As soon as your team switches to a dedicated system, you get instant visibility on what works, what doesn't, and where things need to be improved. Automation will also drastically increase productivity and efficiency for your team.
Now you understand what onboarding software brings to the table. However, you will find that there are so many onboarding software out there that have similar-looking features. 
In the next section, we will help you choose the best onboarding software for your company that solves all your onboarding problems.
Client onboarding software: how to select the best solution?
All onboarding software may sound same on the surface but they largely differ on features, pricing, integrations with other tools, scalability, and more.
We will tell you what are the things that you should look for when choosing an onboarding software. 
Here are some unique abilities that your onboarding software should have:
Features and capabilities
A robust client onboarding software must provide a certain number of features to support your growth. Features such as onboarding templates, automated reminders, form automation, task management, payments, document collection, and eSignatures are essential.
Make sure you confirm with your vendor that such features are available for you and your team and also check their feature release history to know if they have a customer-centric culture.
Have a close look at your new software interface. Is it user-friendly? Do you have resources and articles that help you get up to speed easily? These are key elements you need to validate before committing to a new system.
Working with a client onboarding software provider is a partnership. You need to know if you can rely on customer support teams to address queries quickly and manage new customers smoothly. Dedicated customer support either online or offline is a plus.
While onboarding new customers or stakeholders, you'll probably need to request, collect and handle sensitive information. Discuss security measures with your provider as soon as possible to better understand how they handle security. A provider who cares about security will also build security features that will help you comply with data privacy regulations and protect your business.
If you're still a small business or team today, with good business strategies and implementation, you can grow your business rapidly. It is therefore important when looking for a software provider to make sure the tool allows your sales team to handle a growing number of workflows.
There are so many software out there that make business workflow simpler and efficient. With integrations, you can use these tools together and get the most out of them.
When researching your future solution, make sure they can easily integrate with your business apps to supercharge your sales process.
Last but not least, the pricing. Make sure that the client onboarding software companies you research have clear pricing. If you're not sure yet how their pricing works, request a quote and discuss your options with them to better manage your budget and calculate your ROI.
Usually, the ROI on such investments is met when the cost of features available with the tool combined with the time needed to onboard a client are lower than the monthly cost of the actual software.
Why do you need to invest in client onboarding automation today?
We're now at the end of our comprehensive guide about client onboarding. I hope you have a better understanding of how client onboarding automation can streamline your sales and ops teams' work every day.
With digital onboarding automation, you'll provide a better customer experience to prospects and stakeholders. An experience that will drive more engagement and build trust from the very first contact.
The current global context is putting more pressure on companies – pushing them to invest more heavily in digital experiences that are reliable, scalable, and reassuring for their audiences.
So today is the right time to invest in a new client onboarding system that is fully automated and used in a unified way by all team members.
Give Clustdoc a try and book a quick demo call with us – we'd be happy to help you to find the best solution to automate your onboarding workflows.
Clustdoc — Best plug-and-play onboarding automation for small business. Try it out today.​