Has this ever happened to you–
Your market-leading product and sales team are successful in attracting new customers.

Clients are really excited to start working with you.
But between signing and somewhere during onboarding, they leave unexpectedly.

Early customer churn is ruining your day.
Every year, almost one out of every twelve firms closes being unable to retain customers and maintain their cash flow.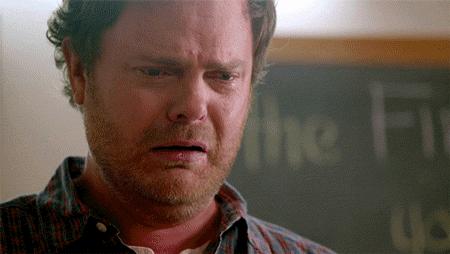 No, I didn't mean to scare you.
But in today's competitive market, customer churn is a nightmare that haunts every business owner.
According to an Accenture report, every year US companies lose over $1.6 trillion due to client churn.
There's no getting around it: customer churn is a business killer. 
But I'm here with solutions for you.
You might have noticed this in your business– 
Customer attrition is higher in the early phase of the customer journey than later in the relationship.
Perfecting your onboarding to improve customer experience will decrease your customer attrition rate by over 67%.
Isn't that great? 😀
And by improving your customer retention by 5%, you can reduce customer churn and increase your profit by 25 to 95%.
It is clear that your main focus to reduce churn should be on perfecting the onboarding process. 
In this article, I'll share ten simple tricks to reduce your client churn during the intake phase.
1. Make Customer Onboarding Your Top Priority
Customer onboarding is your first interaction with the customers. It is not a surprise that improving your onboarding system will have a definite impact on your bottom line. 
With successful onboarding, you can meet customers' expectations in the initial phase and leave the right first impression on them.
Customer onboarding is a major milestone in your relationship with the customer. And that is why the success and failure of the onboarding will affect the customer retention rates.
During onboarding, keep things simple and explain to your customers how your products and services will help them achieve their goals. 
Clustdoc's client portal will assist you onboard your clients without you having to do anything.  
Customers will now easily understand the value of your products without having a boring moment with an interactive and engaging onboarding process. 
With the Clustdoc onboarding portal, you can provide a frictionless and personalized onboarding experience to your clients, improving their satisfaction and reducing churn.
2. Don't Delay the Onboarding Process
Any time spent between signing a customer and onboarding them to your business is valuable time missed, and it might result in client loss even before you begin.
When a customer chooses your product or service, your onboarding process should start right then. The sooner a client realizes the value of your products, the more likely they are to become long-term consumers.
You'll be able to swiftly move them to the next phase of the funnel if you have an onboarding process that they can easily follow and find engaging.
By including the public URL on your website, social media, or email signature, you can easily share Clustdoc's onboarding portal with your clients. Clients can initiate the process and register via the interface at any time.
3. Upgrade Your Onboarding Process
Transforming your onboarding process can help you save time and energy while also making a positive first impression.
A customer's purchase of your product does not guarantee that they will effectively embrace it. 
In today's digital environment, continuing to use manual traditional onboarding practices will push your onboarding to the back foot, and clients will begin looking for alternatives.
After implementing a digital onboarding process, you won't have to hurry to the printer, copier, or scanner and stack documents into file cabinets anymore.
With Clustdoc's onboarding checklist, all the documents related to business processes that you used to request and manage in paper formats can also be requested and collected directly online from a secure interface.
You can reduce manual touch throughout the onboarding process while still offering a personalized experience. And this will effectively reduce customer churn.
4. Personalize the Onboarding Experience
Your customers are unique and so are their needs and expectations of your product. And that is why personalization is crucial.
By tailoring your onboarding process to most of your clients' use cases, you can provide them with a more personalized onboarding client experience while automating the repetitive tasks that must be completed every time you have a new client.
As a brand, one of the main focuses at Clustdoc is providing unique and personalized experiences to our users and their clients. 
With Clustdoc onboarding software, you can welcome your customers with a personalized welcome message that makes them feel special and valued. 
A personalized welcome message can take you a long way when it comes to building a relationship with the customers. You can generate 320% more revenue with welcome emails. 
With Clustdoc, you can build personalized welcome messages for clients. You can send emails to clients when they start the onboarding process, are inactive or have completed the process. 
Personalizing the onboarding experience means that you value your customers and want to help them achieve their goals. 
By tailoring the onboarding process, you can increase customer engagement and improve customer retention.
Another great feature for creating a personalized onboarding experience with Clustdoc is unique workflows. You can define how your workflow looks and functions based on your needs.
5. Automate Your Onboarding
Client onboarding automation will help you prevent the extra work and deliver the highest level of customer service to minimize customer attrition to the lowest number.
You can utilize Clustdoc to automate the process and ensure you deliver a smooth and frictionless onboarding experience. 
Your onboarding workflow will remove any noise from your contact's mind and help them complete your intake process in no time.
Clustdoc's powerful automation tools will help you trigger notifications or specific actions based on customer interactions.
Clustdoc has 100+ onboarding templates that are ready to use or can be customized depending on your business needs. These templates can be used in all sorts of businesses.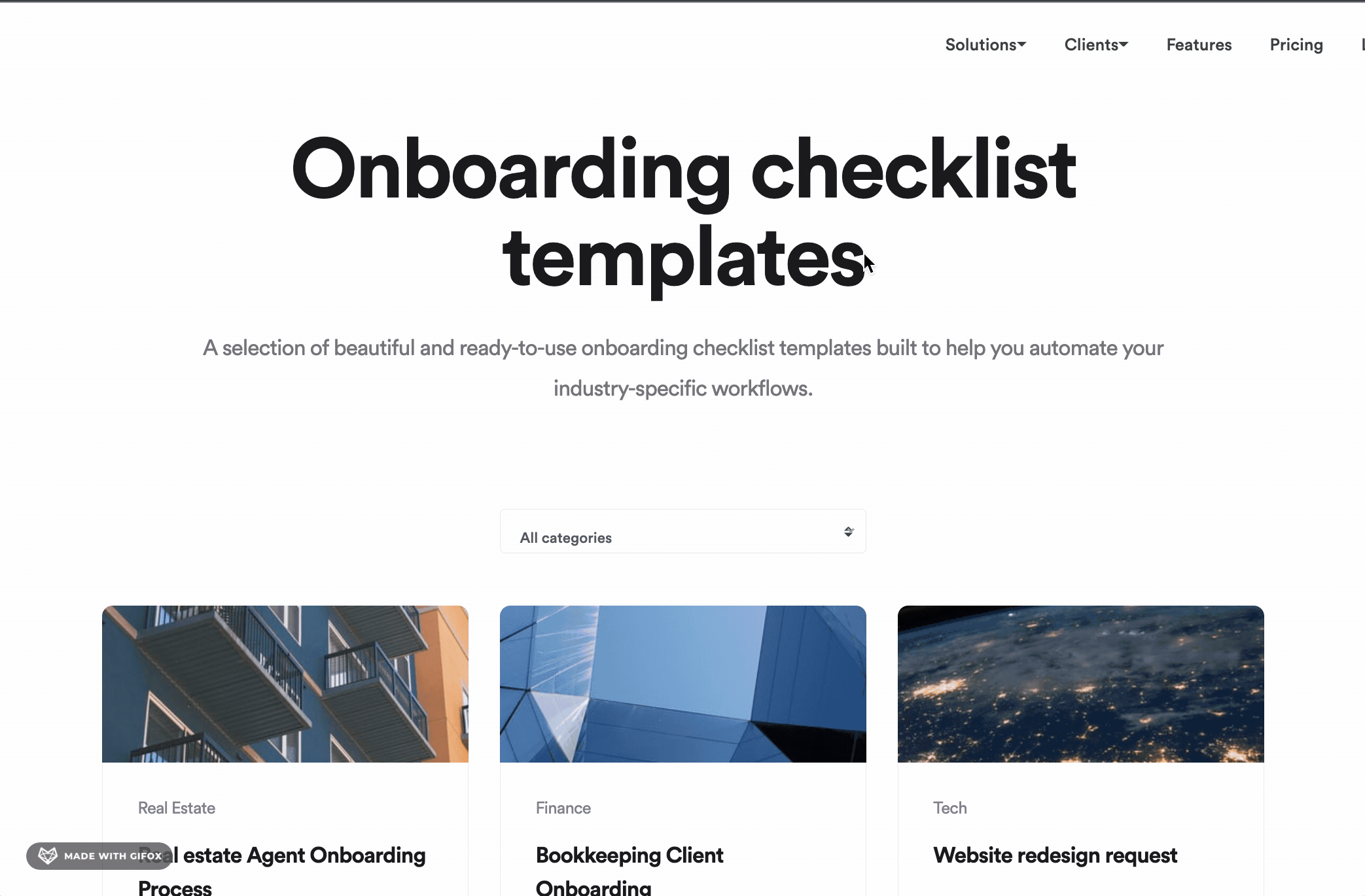 You can build online forms or customize them from a huge list of templates. 
You can guide clients' submission process with our smart built-in checklist. And if you want to request clients to submit files send them a personalized file request or message.
Onboarding workflow is a great feature on Clustdoc. It helps you create a personalized onboarding experience for your clients. You can define how your workflow looks and functions based on your needs.
6. Provide Real-Time Customer Support
The longer your customers have to wait for your service, the more likely they are to get frustrated and leave. 
A study shows that improving customer support and communication with clients can reduce the churn rate by 22%. 
Customers now expect real-time and personalized assistance during their stay. A delayed response to their problems means they have already considered alternatives.
You can provide real-time solutions to customer problems using the messaging feature in the Clustdoc client portal. This will boost your engagement with the customer and make them feel more valued.
Customers get timely solutions with the client messaging function, which lowers churn and improves the entire customer experience.
7. A Self-Serve Onboarding Impresses Clients
You want to convert more customers at lower acquisition rates. In a survey, 55% of clients said they would pay more to guarantee a good customer experience. 
During the onboarding process, customers want to explore on their own. Consider this: Would you want to sit through a sales call or demo to sign up for Netflix?
No, right? The same is with onboarding. 
A self-service onboarding allows customers to choose their path while also being guided through the process. Such onboarding focuses on user experience rather than telling them only about the product. 
Self-serve onboarding will make the process effective and efficient. You will not have to provide hand-held support throughout the onboarding and only step in when necessary. This way you can better utilize your resources. 
With Clustdoc's advanced features, you can create a self-serve onboarding for your clients while also providing them immediate access to customer support.
8. Share the Value of Your Product
Customer onboarding is a pivotal part of the customer journey. Whether customers understand the value of your product and stay for the long term or churn immediately, depends on how well you can convince them during onboarding.
If onboarding is successful in helping customers understand and experience the benefits they'll gain with your product means they'll start using it successfully and return again and again. 
To convince the customer of the values of your product, make sure that the onboarding process adds value to the customer's goals and helps them achieve those goals with your products. 
During onboarding, you can share helpful tips and resources, take follow-ups, share client testimonials, and more that will remind customers of the value of your product and inspire them from others' experiences.
9. Employ Customer Success Manager
A customer success manager dedicated to customers during onboarding is a great way to show the clients how much you value them and is a powerful way to retain them. 
This way clients feel a personal connection with someone in the company increasing their chances of staying for the long term.
A customer success manager can guide customers to get most of the onboarding process and gain more benefits from your products and services. They are also a direct point of contact for the customers providing them with immediate support. 
So, to build a personal relationship with your customers, appoint an employee to handle all the needs of the onboarded client.
10. Collect Customer Feedback and Thank Them
You should always ask your customers how they feel about your onboarding program and product.
Customer needs and expectations differ with each individual. So, examine what are their needs and design your onboarding program accordingly. 
After only one negative experience, 32% of clients stop doing business and move to competitors. 
So, collect feedback from your customers and find solutions to customer problems.
With Clustdoc, you can redirect your clients to customer feedback and review pages of your company. You can also use online forms to collect feedback as part of your onboarding.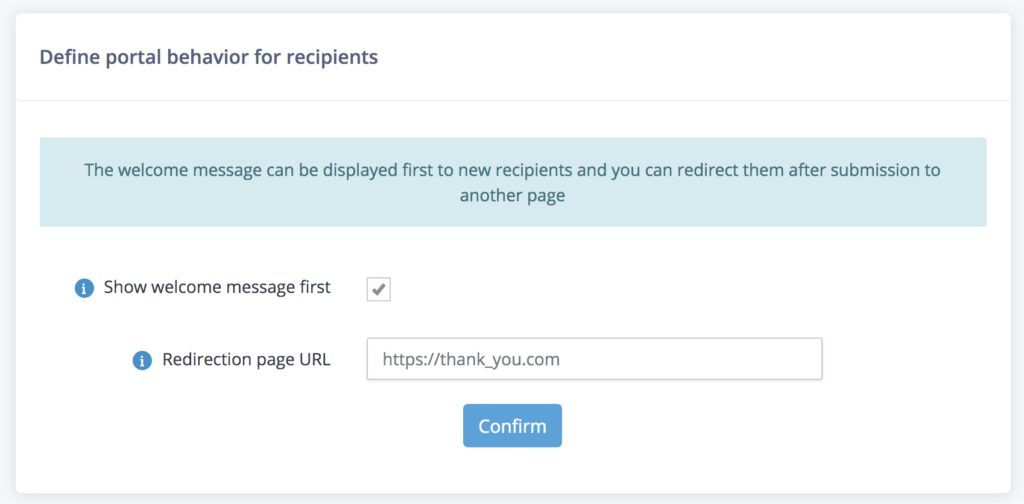 Customers whose complaints are addressed on time are more likely to become loyal customers in business and share their positive experiences with others. 
If you want to minimize customer churning to a minimal level, you will have to keep your clients happy and loyal to your business. One way to do this is to appreciate your customers for their business.
Share good customer testimonials on your website and reach out to them with gratitude for their support.
Who wouldn't like being appreciated and given special treatment? Provide your long-term customers with special discounts, gifts, and incentives to make them feel valued.
Reducing customer churn is only possible when customers feel a special connection with your brand. And this can be made possible with a personalized and engaging onboarding with Clustdoc.
Improve Customer Experience and Reduce Churn with Clustdoc
As you know, customer retention is way cheaper than acquiring new customers and retained customers spend more.
Customer churn often happens not because of a bad product but bad customer experience with your service. 
Many customers leave during the onboarding process because they don't really know your product and service that well. It is crucial to build a relationship based on trust during the initial phase of the business.
A good onboarding experience comes with a good onboarding tool that can provide an engaging and immersive experience.
Customer churn is a devil but with proper planning and the right tool in hand, you can defeat it with ease. 
Clustdoc provides complete solutions to all the onboarding processes. Check out Clustdoc if you want to get started with digital onboarding and knock off customer churn out of your business.