Complete Review of Top Mortgage CRMs
Your customers want speedy mortgage application processing, accessible services, and a frictionless customer experience.
To meet their expectations, you are now transitioning to digital lending systems. And believe me, it's the best decision you made in favor of your business and your customers.
Fintech lending has skyrocketed in popularity in recent years, expanding at a rate of 30% each year. CRMs have evolved into a pivotal element of today's mortgage industry.
Mortgage CRM has evolved into a productivity engine, helping lenders to conduct faster underwriting, comply with regulatory requirements, and make swift decisions.
However, with so many mortgage CRMs in the market, it is understandable that you are getting confused about which one to choose for your business.
As a mortgage lender, you are frequently preoccupied with keeping track of your clients' information. So, to make your decision easier–
In this article, I have reviewed the top mortgage CRMs to help you determine which one is most suited for your business.
1. Whiteboard Mortgage CRM
Whiteboard Mortgage CRM enables loan originators to create a stress and hassle-free CRM. Whiteboard focuses on template-based CRM to help loan agents connect with prospective clients, generate leads, and manage workflow.
The features of Whiteboard Mortgage CRM include:
 Email, in-app, and message notifications for new leads.

Automated Lead Management to manage leads and follow-up.

Automated Pipeline Management to guide clients through the loan process.

Pipeline Sequences and automated campaigns for Credit Repair, Followup, and Cancellations.

Pre-loaded checklist for information to collect from borrowers.

Email and text templates to send your messages to the client.

Pre-loaded and customized forms to collect client information.
Pricing for Whiteboard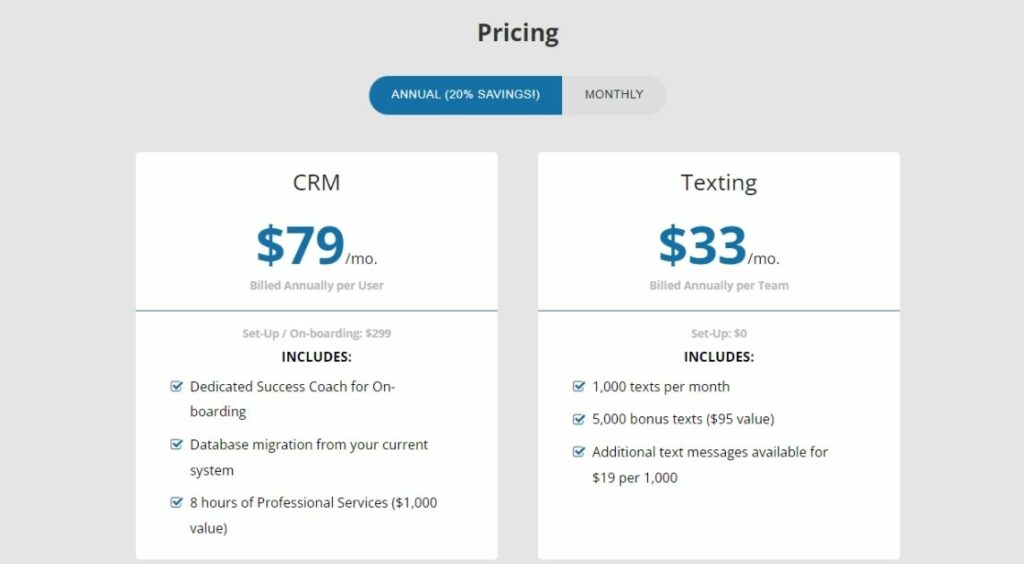 The Whiteboard CRM comes at $99 monthly per user along with $399 setting up charges. Along with the CRM, you get a success coach for onboarding, database migration from your current system, and 8 hours of professional service.
2. Keap
Keap has built-in marketing, sales, and e-commerce tools in their mortgage CRM. Their software interface is simple and easy to understand making it convenient for loan officers to navigate. Keap comes with several exciting features to help loan officers manage their business.
The features of Keap CRM include:
Automated and customizable CRM to optimize customer experience.

Automated lead capture to collect and organize leads through lead forms, websites, and social media.

Trigger automated and personalized lead follow-ups based on client action.

Unlimited and personalized emails to improve open rates and deliverability.

Client access portal that can record and track customer interaction.
Pricing for Keap
Keap offers three different plans depending on your business size and CRM needs.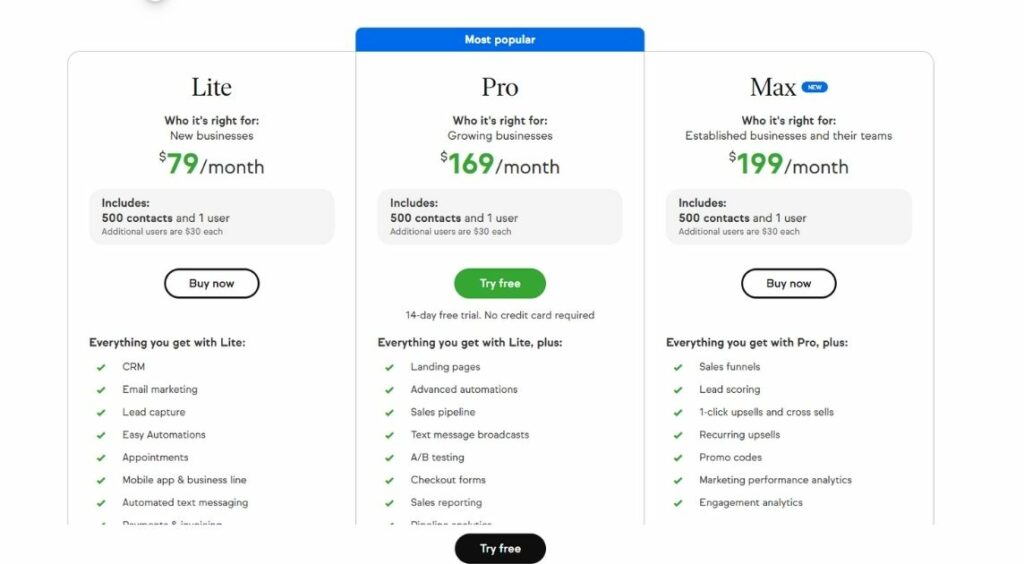 The Lite plan is for new businesses and comes at $79 per month. The Pro plan for growing businesses which is their most popular segment will cost you $169 every month. The Max plan will cost your business $199 every month.
However, if you want to try out their Lite and Pro plan, you can try out with a 14 day free trial with no credit card required.
All these plans are for one user and if you want to add another user, you'll have to pay an additional $30 for each user every month.
Keap also charges a one-time fee of $499 for an expert coach to guide you through the setting up process.
3. Pipedrive
Though Pipedrive is not a mortgage-specific CRM, its loan originating and productivity-oriented features make it one of the best fits for the mortgage industry.
Pipedrive is an easy-to-implement CRM software that gives you the time to focus on the most profitable activities of your business.
The most notable mortgage industry-specific features of Pipedrive include:
A customer portal to organize documents and provide real-time loan application status information.

You can build custom pipelines, dashboards, and reports to personalize CRM according to your needs.

With sales automation, you can automate every step of the loan process.

You can monitor your loan origination process with measurable data and analytics.
Pricing for Pipedrive
Pipedrive has four different plans depending on your CRM needs.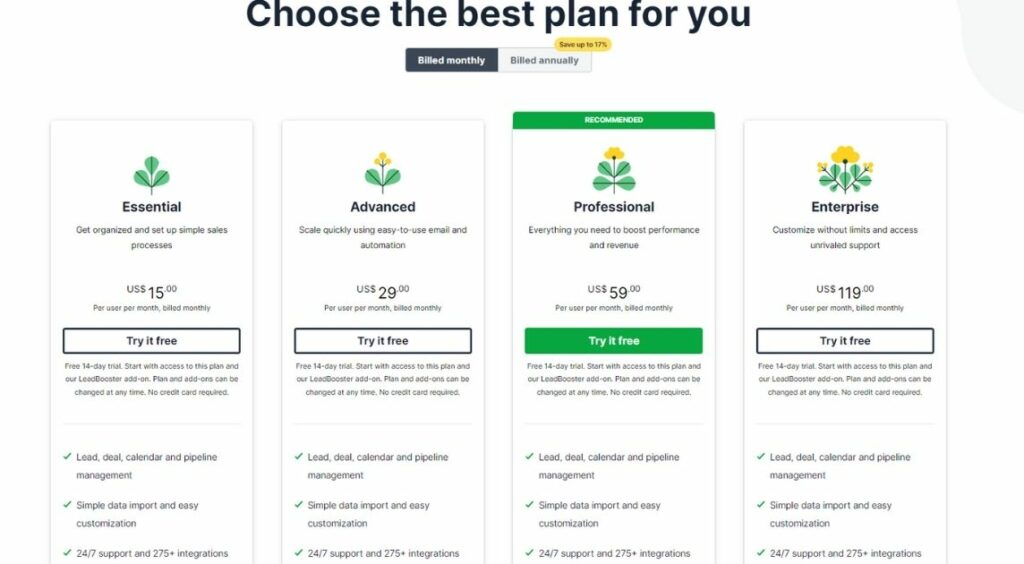 The Essential plan allows you to organize and set up a simple sales process at a monthly budget of $15 for each user.
The Advanced plan that offers easy-to-use email and automation features will cost you $29 per user per month.
Pipedrive recommends their Professional plan which they claim will help you boost performance and revenue at the monthly price of $59 for one user.
Their highest priced service which they say comes without limits and access to unrivaled support is named Enterprise plan and will cost you $119 every month for one user.
You can add different add-ons into your plan as per your needs to get the most out of Pipedrive but they come with additional cost.
4. Hubspot
Hubspot offers a wide range of industry-specific tools for lenders and mortgage companies. The CRM software is easy-to-use and eliminates manual tasks to help you generate more leads and get more clients.
With Hubspot, you can offer excellent customer service and nurture your leads effectively.
The most prominent features of Hubspot for the mortgage industry include:
With Hubspot, you can automate your lead workflow tasks

You can assign leads to team members, track progress and prioritize them.

Get an up-to-the-minute view of your sales pipeline

Create exciting forms and landing pages with Hubspot tools to attract clients.

Use Hubspot analytics to reduce bounce rates and improve lead conversion rates.
Pricing for Hubspot
Hubspot offers three different price segments with different features.
The Starter plan will allow you to remove Hubspot branding from certain features, streamline B2B buying, and organize sales processes at a monthly rate of $50 for two users. Adding additional users will cost you $25 every month.
Their Professional plan starts at $500 per month for five users. If you want to add more users to this plan, you'll have to pay $100 every month for each additional user. With this plan, you get features like sales analytics, lead rotation automation, forecasting, custom reporting, ABM tools and automation, and more.
The Enterprise plan which will cost you $1200 every month for ten users and an additional $120 for each additional user is Hubspot's most expensive offer. With this plan, you can customize Hubspot to match your business, get advanced permissions, conversion intelligence, predictive lead scoring, and more.
All the paid plans include storage for up to 15 million overall contacts and 1:1 technical support.
Hubspot also offers free CRM tools with features like contact management, email scheduling, deal pipeline, meeting scheduling, and live chat.
5. Zendesk Sell
Zendesk Sell as a mortgage CRM tool allows lenders and brokers to track leads, manage sales, and keep customer accounts up to date.
With Zendesk Sell CRM, you can get a clear view of the sales pipeline to monitor your loan origination progress.
Zendesk Sell offers a wide range of services but it is best suited for startups and small and medium-sized businesses.
Features of Zendesk Sell include:
Personalize your sales pipeline and dashboard for data interpretation and branding.

Forecast sales to set targets, strategize and manage your team.

Schedule appointments and send automated reminders

Automated sequencing allows you to engage leads by setting up email and task sequences.

A fully functional mobile CRM to access and manage email communications on the go.
Pricing for Zendesk Sell
Zendesk Sell offers four different plans for their users.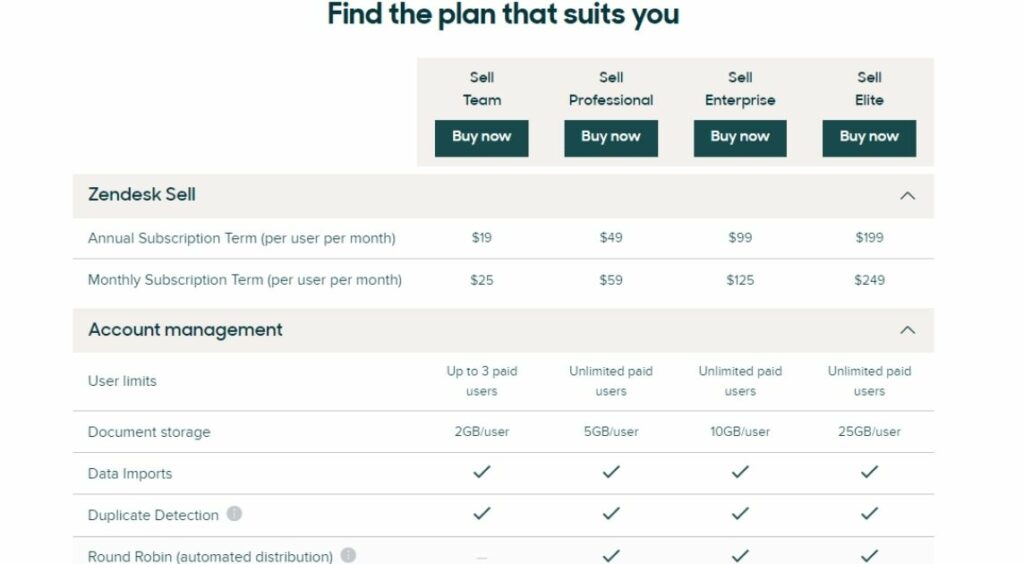 The Sell Team plan charges you $25 every month for up to three paid users. It comes with features like 2GB storage per user, email integration, one custom sales pipeline, prebuilt apps and integrations, and more.
The Sell Professional plan will cost you $59 every month with the option of unlimited paid users. Along with Sell Team plan features, it offers 5GB storage per user, unlimited email templates, sales goals and forecasting, advanced call analytics, and more.
The Sell Enterprise plan is billed at $125 every month and offers all the features that come with the Sell Team and Sell Professional plan. Additional features included in the plan include 10GB storage per user, activity report, advanced permissions, task automation, and more.
The Sell Elite plan whose monthly subscription will cost you $249 every month with all the features of the Sell Enterprise plan. This plan will also support additional features like 25GB storage per user, unlimited API, and hands-on support.
You can try Zendesk Sell free for 14 days with all the Sell features.
Integrate Your Favourite Top Mortgage CRMs with Clustdoc
If you want to provide a seamless customer-centric experience to your clients during their onboarding, a mortgage CRM alone is not enough. You will need to integrate your CRM with Clustdoc to provide an amazing onboarding experience.
With Clustdoc, you can create an effortless customer onboarding workflow, save time managing new leads, and sign contracts faster with the e-signature feature.
Clustdoc is the best client onboarding tool with exciting features that will help you ease the onboarding process and close more deals.
Connect your favorite mortgage CRM with Clustdoc to automate your client onboarding workflow.