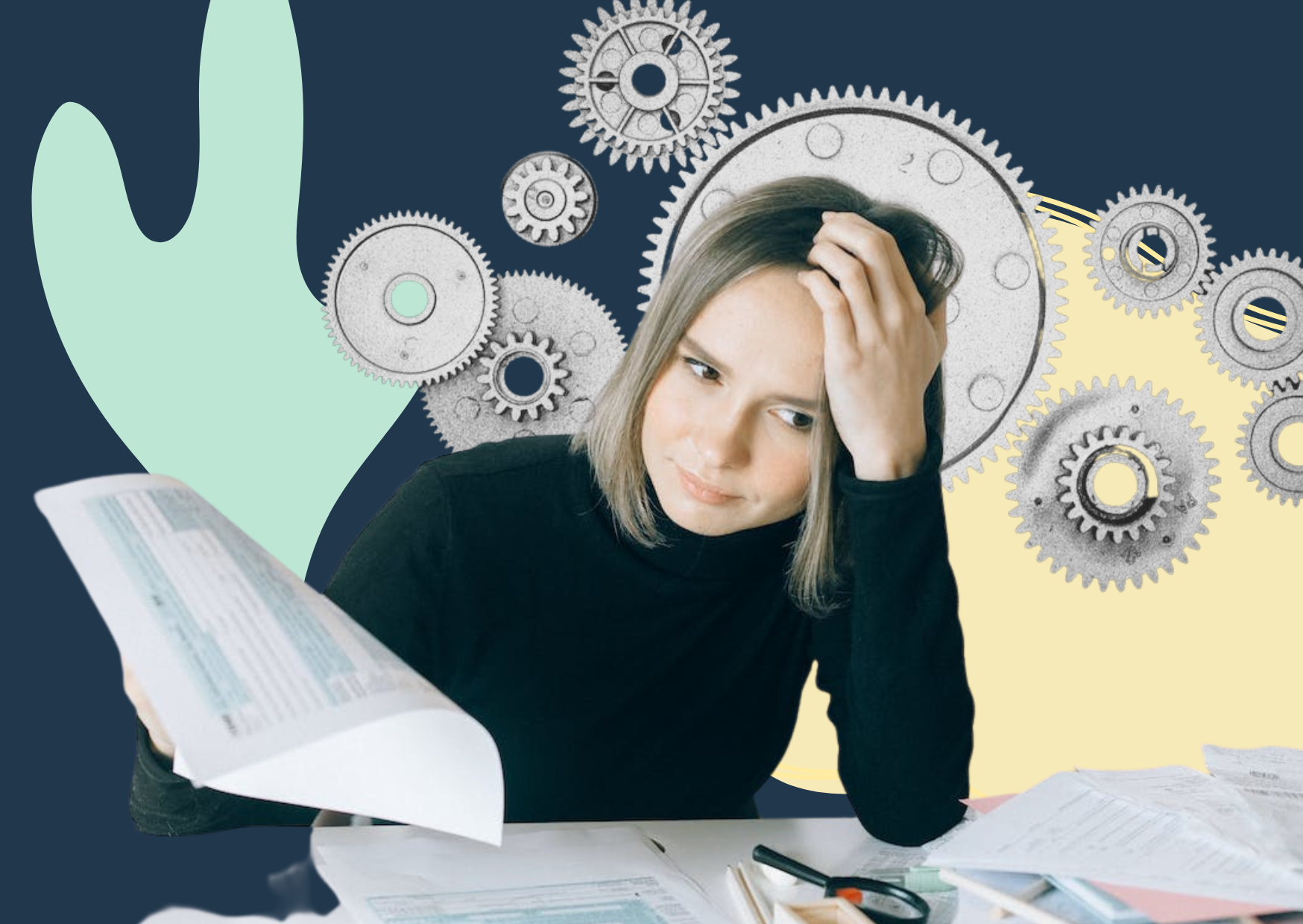 6 Business Automation Tools Your Business Needs in 2022
You have so much to do but limited office hours to get them done. Answering client calls, replying to emails, onboarding new leads, trying to answer their queries, and other day-to-day repetitive and time-consuming business tasks take most of your time. 
You have no time to do things that you actually want to do like focus on more important business tasks or relax for a while and take a walk in nature.
Business automation frees you from the extra work, speeds up your work, and helps you focus on remote work.
31% of business leaders believe that automation software reduces labor costs and 78% say it increases productivity in their business. 
If you want to provide agility and scalability to your business, read this article. With these automation tools, you can boost productivity, increase revenue, and eliminate inefficiencies. 
It is time you join the 57% of companies that have already started on their automation journey. 
However, there are so many automation tools online that you end up confused about which one you actually need in your business. 
I've listed the best automation tools for different business needs to make your search easier. 
Enjoy the success these tools will bring to your business by improving performance with improved quality and reduced errors.
Contents
How Business Process Automation Tools Benefit Your Business?
Streamline Repetitive, Routine, and Mundane Tasks
70% of employees spend anywhere from 45 minutes to 3 hours in their work-day doing mundane tasks that can be automated. These activities keep them away from what is actually important for the business. 
Data entry and processing and IT issues take most of the time away from your employees. Luckily with automation tools, these activities can easily be automated. 
Increase Productivity
Without business process automation, you are missing out on the opportunity to increase your team's productivity and boost your bottom line. 
Businesses often have too much information to input at the start of a project. Manually handling customer data may lead to delays and inefficiencies.
With automation tools, you can improve the speed of your entire workflow management process and make it easy for your teams to achieve more in less time. 54% of employees believe they can save 240 hours in a year by automating tasks in their company.
Less Human Errors
'To err is human' but software seldom makes mistakes. Using automation tools, you can reduce human errors and ensure more accurate information and smooth completion of tasks and processes. 
Humans are more prone to making mistakes and getting something wrong when they are not concentrating or there is a large amount of information to process. Automation can solve this problem with efficient and accurate information processing. 
In a survey, 90% of respondents said automating tasks in their business can reduce manual errors and 38% said it betters quality work.
Easy to Track Changes and Progress
With manual business processes, your employees need to update you regarding every business activity through calls, messages, or emails. If a team member forgets to update you regarding a change, you remain in the dark and mistakes are never spotted. 
With automation tools, your teams can complete a task and move on to the next. The tool will prompt you regarding the updates and keep track of the changes. Real-time alerts give you a birds-eye view of the business processes. 
Your employees can easily collaborate with you and others in the team to ensure smooth workflow and no manual mistake goes unnoticed.
More Flexibility
You and your teams have the freedom to manage your workflow according to your business needs. 
When you automate a business task, you have the ability to control your workflow and data. You can decide individual roles, provide limited access to team members, share information easily, and integrate with other tools to simplify and improve your business processes. 
Different business automation tools solve different issues. I'll list down the best business workflow automation tools that can solve most of your business workflow issues.
1. Integrate Your Favorite Tools with Zapier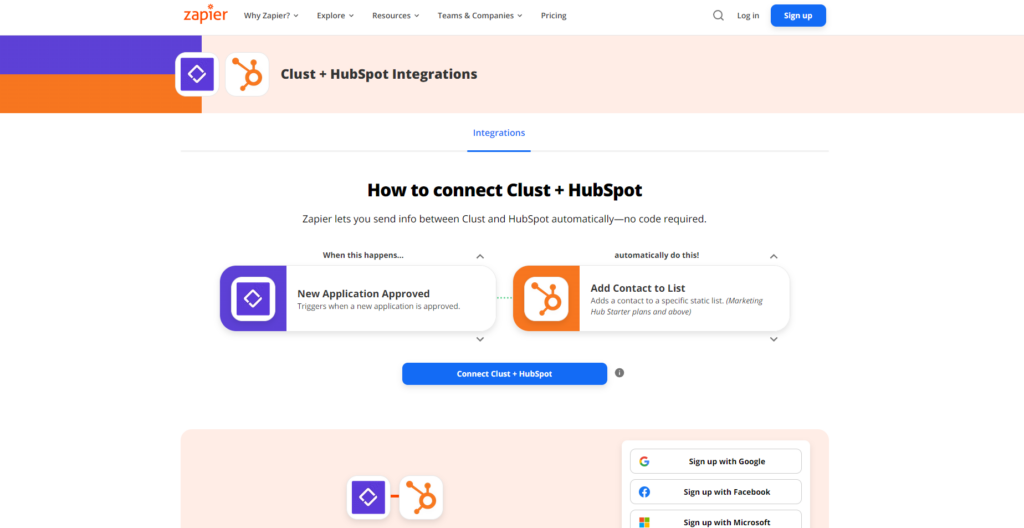 With Zapier, you can easily integrate different applications that you use in your daily business without using codes. This simple automation tool can automate your processes and organize leads in one destination. 
When a customer buys a product on your platform, Zapier can add them to your mailing list automatically. As a result, you can send them relevant emails to attract them to return.
Using this powerful app, you can focus on crucial aspects of your business by automating repetitive tasks. 
Zapier comes with predefined templates to help you create workflows and automation with ease.
Key Features Include:
Easily automate tasks and integrate automation tools without using any code

Has 3000+ ready-to-use integrations

Do-it-yourself automation to build unique workflows without developer help
Pricing & Plans: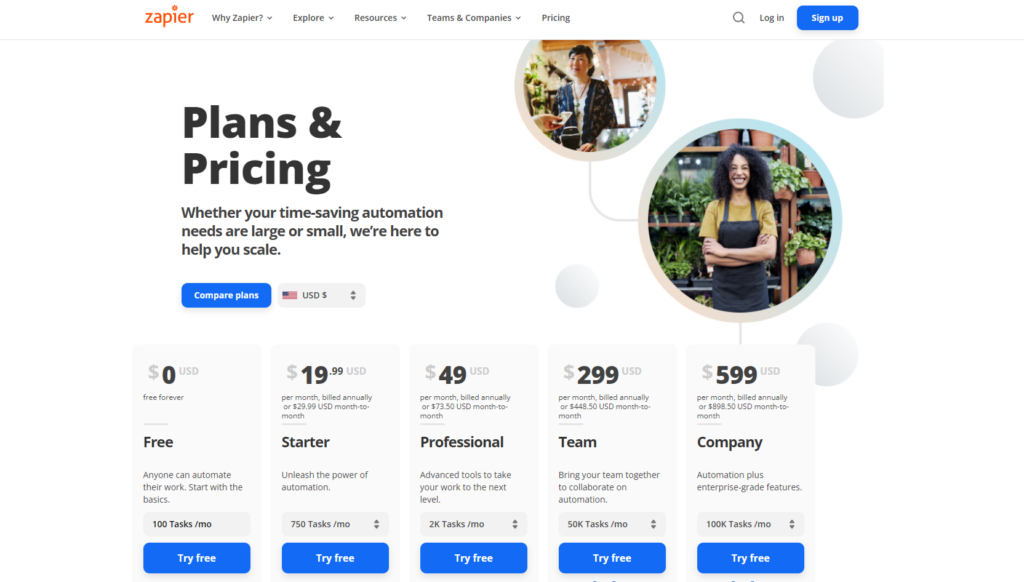 Zapier offers four different pricing options– Free, Starter, Professional, Team, and Company.
With Zapier's free plan, you can create 100 tasks every month. Their Starter plan starts at $19.99 every month billed annually for 750 tasks every month.
Their Professional and Team plan starts at $49 and $299 per month billed annually respectively. The Professional plan offers 2000 tasks every month while the Team plan offers 50,000 tasks in a month. 
Their Company plan which offers automation and enterprise-grade features will cost you $599 per month when billed annually. You can create 100K tasks every month with this plan. 
You can try the premium features of Zapier for free for the first 14 days. 
2. Easily Connect Apps and Services with Integromat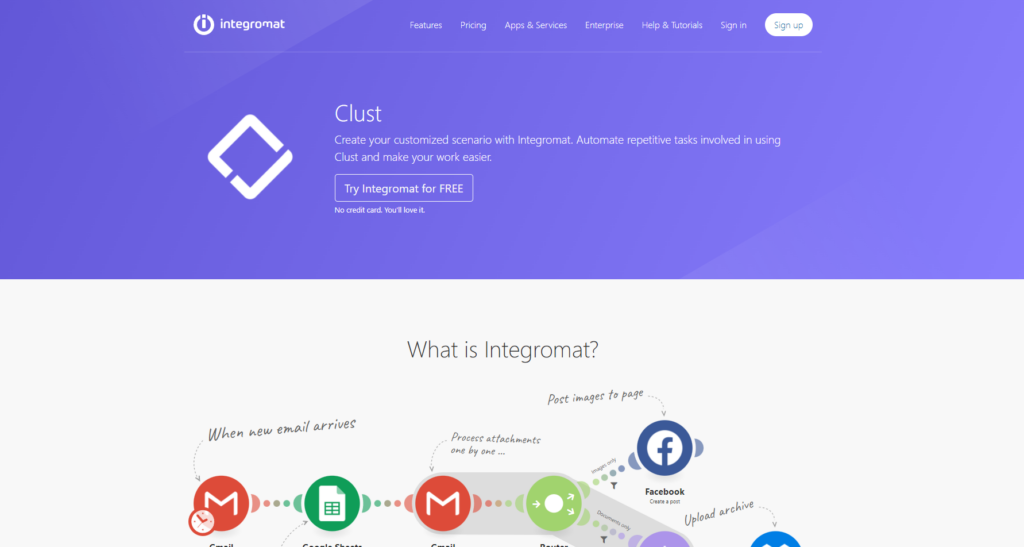 Integromat is a cloud-based automation platform designed to connect apps and services. With this tool, you can create codeless integrations to automate your business workflows. 
Integromat helps you achieve more in less time with fewer people. It lets you connect to any APIs and create complex integrations with built-in apps and tools. 
With the Integromat developer platform, you can create your app. Integromat also lets you transfer data between apps.
Key Features Include:
1500+ Customizable scenario templates

Built-in routers to duplicate processed data

Scheduling to set up execution depending on your needs

Real-time visualization of performed automation
Pricing & Plans: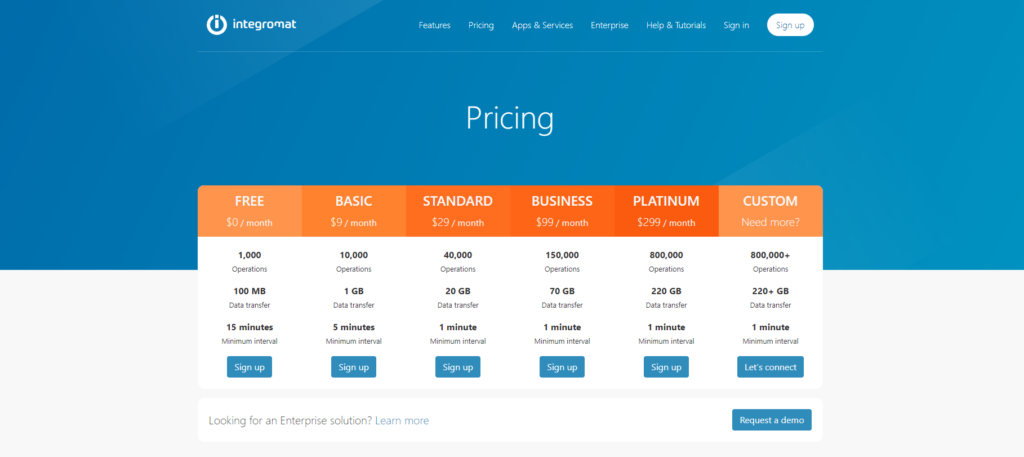 Integromat offers six different pricing options– Free, Basic, Standard, Business, Platinum, and Custom.
The free plan lets you perform 1000 operations and transfer 100MB of data at no cost. 
The Basic plan which starts at $9 per month lets you perform 10,000 operations and transfer 1 GB of data between apps. 
You can choose between Standard and Business plans starting at $29 and $99 per month. 
Their Platinum plan will cost your company $299 per month while allowing you to run 800,000 operations and transfer 220GB of data.
If you want a Custom plan for your business, you can contact their Sales team.
3. Control Your Social Media Campaigns with Buffer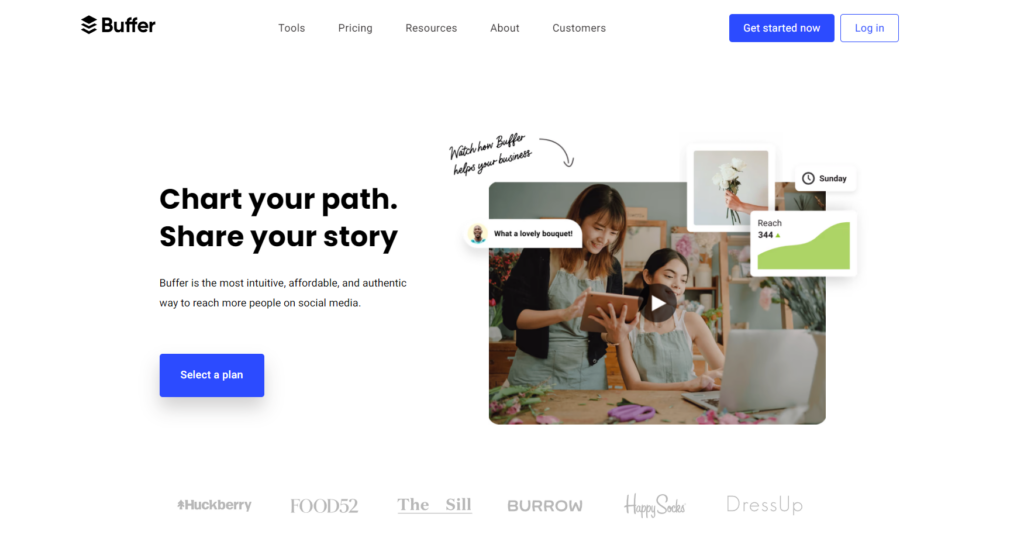 Buffer will help you manage all your social media accounts. This intuitive, streamlined social media management tool will help you manage multiple social media profiles, plan and schedule posts in advance, collaborate with team members, and analyze your social media performance. 
With Buffer, your marketing team will no longer need to reply to messages by checking each media profile. They can respond to social conversions within one inbox. 
Buffer makes sharing content and managing social media campaigns simple and convenient.
Key Features Include:
Control multiple social media accounts from one platform

Schedule social media posts to never miss a post

Browser extension and mobile apps to share from anywhere

Analytics and reports to improve social media performance
Pricing & Plans: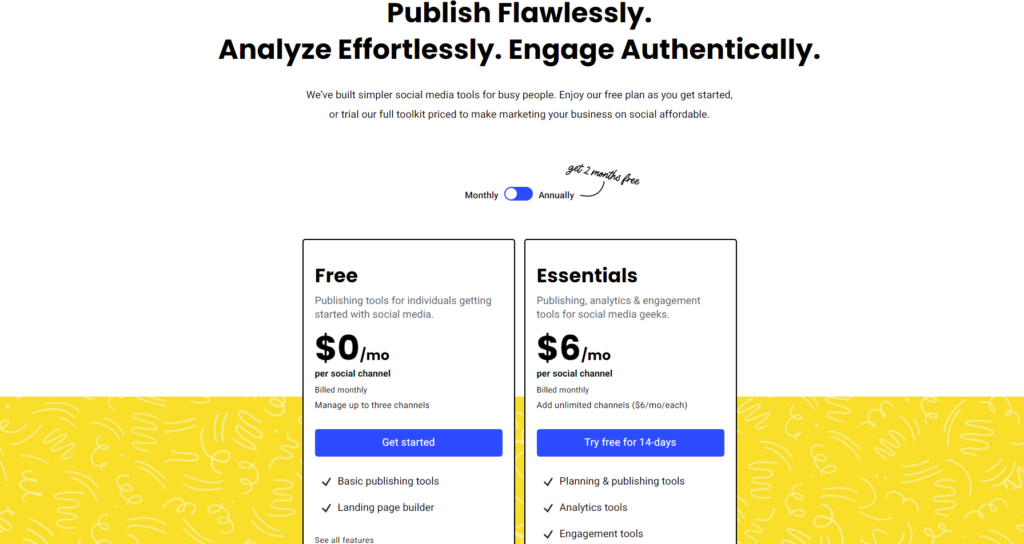 Buffer offers two pricing plans– Free and Essentials 
With their free plan, you can manage up to three social media accounts and post 10 posts weekly.
Buffer's Essentials plan will cost you $6 per month. If you want to add the team pack add-on with unlimited team members, you can get that for an additional $6.
You can also try out paid features of Buffer for free for the first 14-days.
4. Build Strong Customer Relationship with Zoho CRM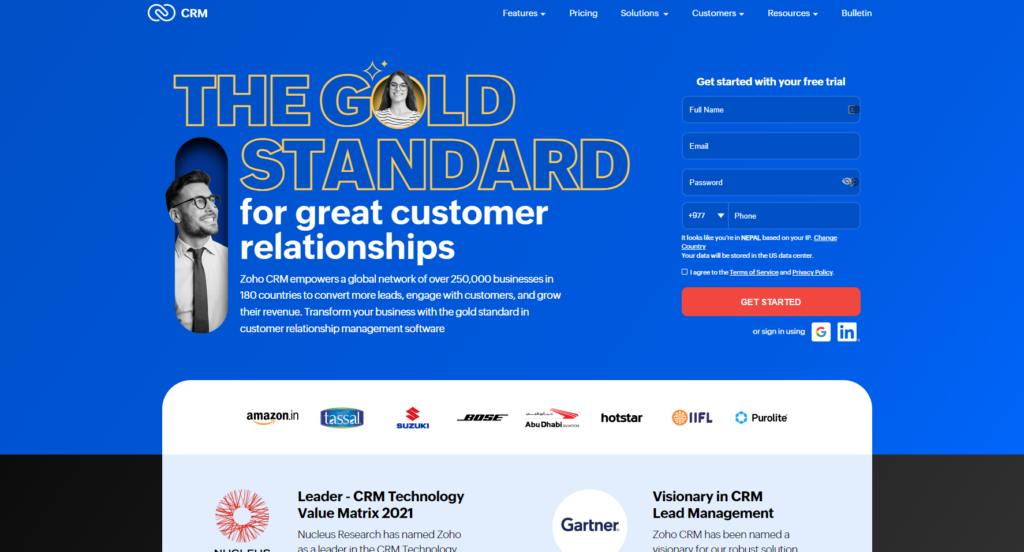 Zoho CRM is an easy-to-use customer relationship management software for businesses of all sizes. It helps streamline business and sales processes to make your job easier. 
This customer relationship management software helps businesses of all sizes build excellent customer relationships. Leads generated from different channels such as trade shows, emails, social networks, and websites can be successfully managed using Zoho CRM.
Zoho CRM software provides all the tools you need to manage your leads pipeline and turn them into opportunities.
Key Features Include:
Anticipate tasks, create a lead pipeline and detailed analysis reports.

Make more informed business decisions with powerful real-time analytics.

Measure and manage your organization's sales performance across the globe.

Easy-to-use Mobile Application
Pricing & Plans: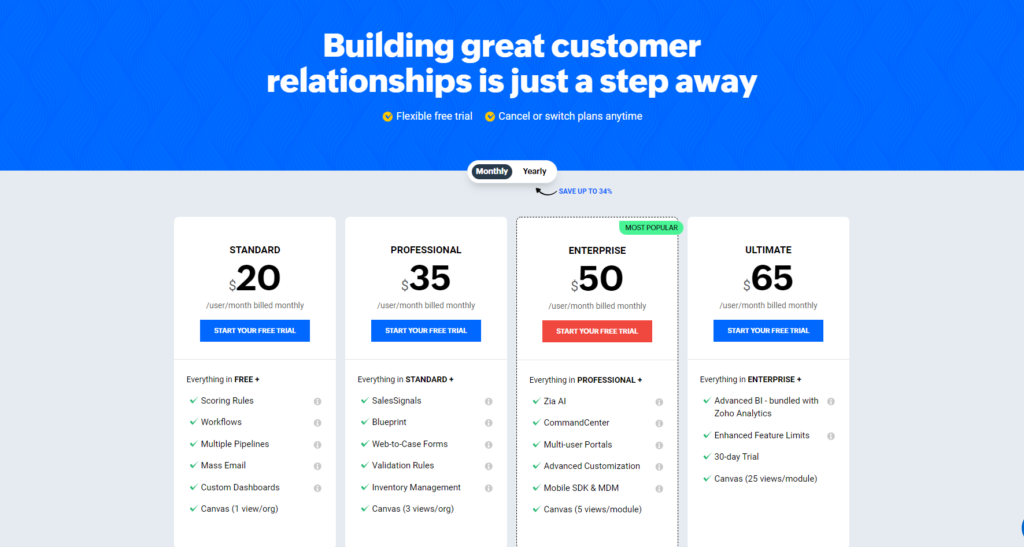 Zoho CRM comes in four different pricing options–
The standard plan will cost you $20 per month with features like multiple pipelines, mass email, custom dashboards, workflows, and more.
The professional plan comes at $35 per month with added features like inventory management, sales signals, web-to-case forms, etc.
Enterprise, which is the most popular Zoho plan costs $50 every month with added features like advanced customization, multi-user portals, etc.
The ultimate plan is billed at $65 monthly and comes with features like advanced BI for analytics and enhanced feature limits.
5. Pabbly Streamlines Your Sales and Marketing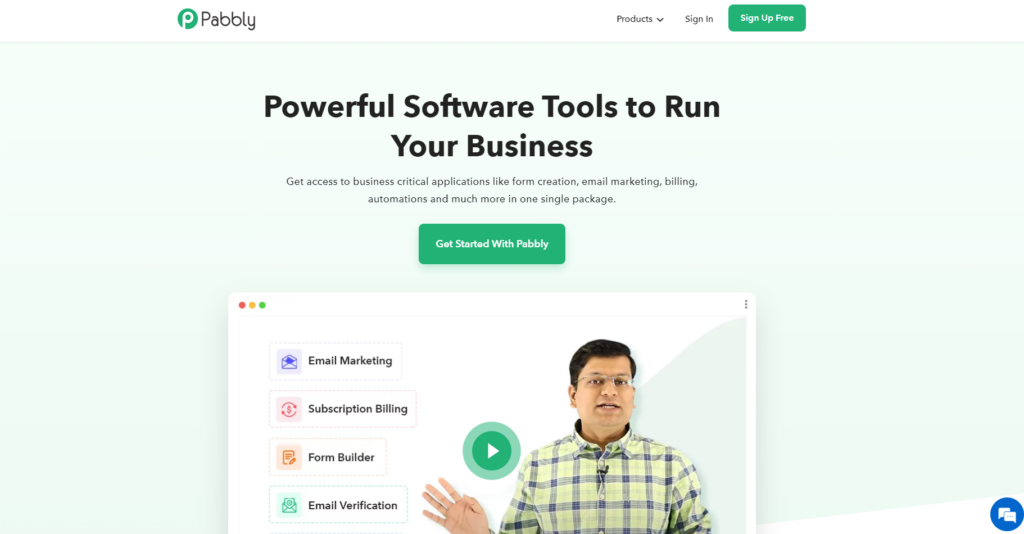 This sales and marketing platform helps you manage and streamline marketing, subscription, and billing processes for your business on one platform. 
Pabbly offers five tools as its core feature– email marketing, email verification, subscription billing, form builder, and Pabbly Connect. Along with these features, Pabbly also offers an email API system and a built-in SMTP to streamline your email operations. 
This is a single platform to manage all your business transactions, plans, products, and more without leaving the Pabbly dashboard.
Key Features Include:
One application to manage all marketing and sales operations

Track email engagement, verify email addresses, sales analytics, and payment analytics features

Benefits of multiple applications at the price of one
Pricing & Plans: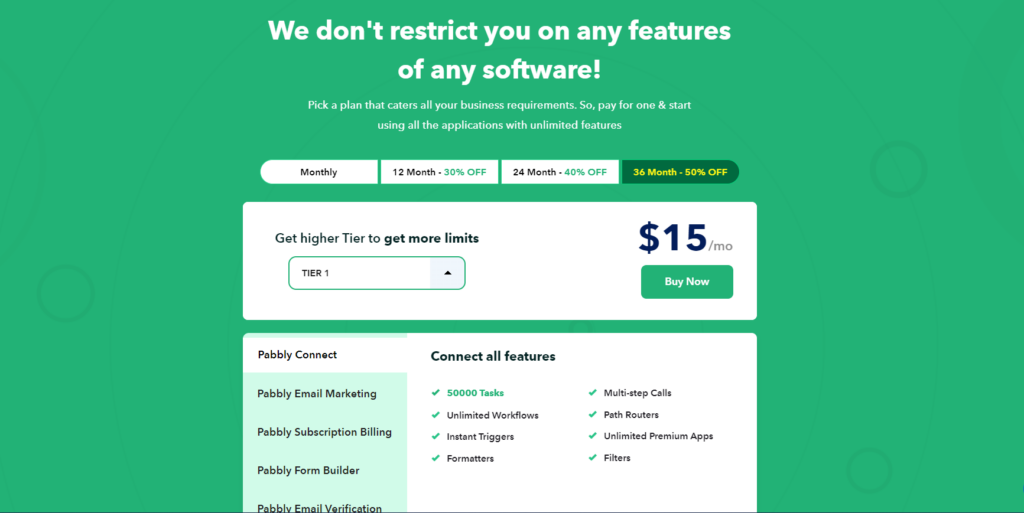 Pabbly offers pricing and plans depending on your business needs. Their plans start at $29 per month and can range up to $3000 monthly.
6. Clustdoc– The Best Tool to Collect Information or Onboard Clients
Clustdoc is a cloud-based customer and employee onboarding software that helps you streamline your business. It makes document processes and managing online submissions more efficient than ever and is ideal for speeding up application processes from clients, tenants, suppliers, and more.
Clustdoc is designed to help you request, collect, approve and share your clients' documents professionally.
This all-in-one onboarding tool takes the pain out of document collection with a secure and easy-to-use interface and great features.
Clustdoc eliminates the need for constant back-and-forth emailing and direct calls. Instead, your clients get to upload all necessary loan documentation in a flash. It even sends out regular reminders if a client accidentally lets something slip.
Additional Clustdoc features include a collab tool, instant messaging, integrated forms and templates, GDPR compliance, automated follow-ups, e-signature, and third-party integration with verification apps and CMS systems.
Key Features Include:
User-friendly and intuitive platform

Easy online form builder

Legally binding e-signatures

Event-triggered email library

API integrations
Pricing & Plans: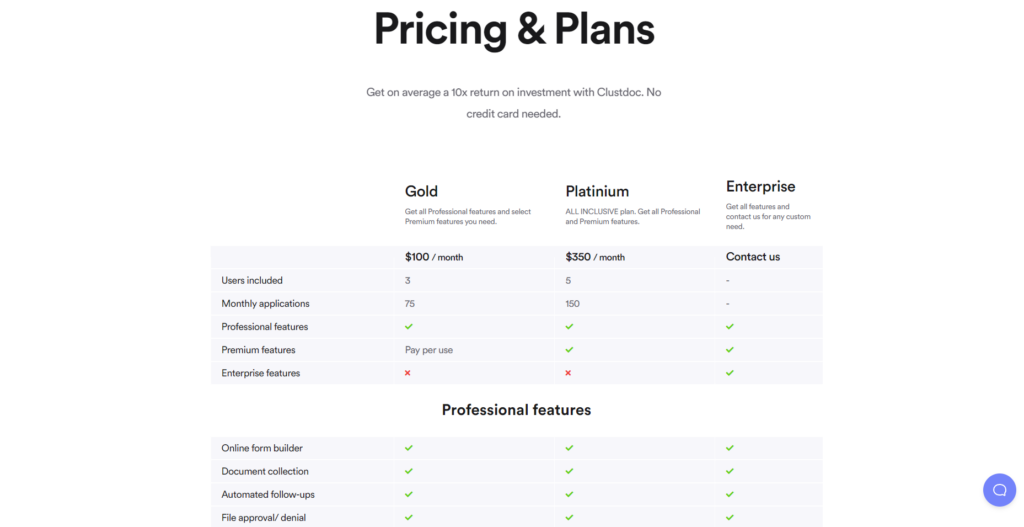 Clustdoc offers three different pricing plans–
The Gold plan starts at $100 per month for three users. 
The Platinum plan comes at $350 per month for five users.
The Enterprise plan comes with unique features such as a dedicated database, customer success manager, and custom configuration. You will have to contact our sales team to get more information on this plan.
You can also try our onboarding software at no cost for the first seven days once you register on Clustdoc.
Put Your Business on Auto-Pilot With Automation Tools
You are no longer restricted to following the outdated and time-consuming business processes that took days to complete basic operations. 
Start with the platforms suggested in this article and automate those unproductive and repetitive processes that took most of your working hours. These automation tools can save your time and resources as well as make your business workflow more efficient.
If manual data collection and onboarding methods are a huge problem for your business, get started with Clustdoc today. 
Whether it be onboarding or client documentation, Clustdoc makes it seamless and exciting leaving the best impression on your clients. 
You can rely on Clustdoc because it is one of the most flexible and robust document collection and client onboarding software.
Now that you're here
Clustdoc is a client onboarding orchestration platform used by modern teams around the world. With Clustdoc, you can run automated workflows for requesting, reviewing and verifying new customers' data, documents and contracts – without juggling between tools. 
If your team is managing new customers using emails, spreadsheets and PDFs, you'll probably love using Clustdoc.
We are sorry that this post was not useful for you!
Let us improve this post!
Tell us how we can improve this post?