How To Get Great Client Reviews For Your Business
How often do clients come to you and appreciate your product and service?
Customers are difficult to please, and praises are hard to come by.
But when you do receive that warm message appreciating your hard work, it certainly feels good.
You know good reviews on online forums and product pages are a great way to attract potential customers.
Statistically, nearly 89% of consumers worldwide consider reading reviews before buying products. 
But despite the fact that customers love your product and tell you about their amazing experiences all the time; you aren't getting any online reviews.
It can be frustrating. 
You've most likely attempted a number of ways to address this problem.
But when only 5 to 10% of consumers write online reviews, how do you get more reviews from your customers?
In this article, I will share nine key strategies to effortlessly collect great client reviews and how an onboarding software can make the job easier for you.
But before that let's understand the impact that client reviews have on your business.
Why are Customer Reviews Important?
Customer reviews not only have the power to influence customer decisions but can also strengthen a company's credibility. 
When considering whether or not to buy something, most buyers seek recommendations from friends, do a lot of online research, and finally make the purchase decision based on what your past customers have to say about your business. 
For new customers, reviews can help them with their purchase decisions. Positive and negative reviews can significantly impact sales, help you better understand your customers, analyze weak points, and improve your services accordingly.
BrightLocal's Local Consumer Review Survey 2020 revealed that the number of consumers reading reviews has increased from 81% in 2019 to 87% in 2020. 
The number of consumers making purchase decisions based on consumer reviews is 97%, according to Power Reviews. These two facts only scratch the surface of how essential customer reviews are. 
How to Get More Client Reviews?
Online reviews can do wonders and can generate social proof for your business. Even though the percentage of people that leave online reviews after a purchase is 5-10% (which is not a huge number), they can still influence around $400 billion worth of total e-commerce revenue. 
No matter what products or services you offer, customer proof has a lot to do with the success rate of your business. And even though the review rate is lower (5-10%), it still has a significant impact on businesses. 
So if the review rate is doubled or tripled, you can picture what it can do to your business. The thought is tempting, but you gotta put some effort into making your ideas become a reality!
According to studies, customers who have had a terrible experience with a business are twice to three times more likely to leave angry reviews than those who have had a great experience. The clients who have had better experiences need to be encouraged to leave reviews to get the maximum out of it.
So now that you understand how compelling customer reviews are, it's time to devise a strategy to encourage customers who do business with you to leave their reviews.
1. Business Profiles on Review Platforms
Businesses need to start thinking of review platforms as a resource. They help build brands, attract more potential customers, and spread the word about your business. For consumers, review sites are the platforms to get honest reviews of just about anything and everything. 
Consumers now use more review sites than ever before. More than 90% of people read reviews of a place, product, service, or business before spending money on it. As such, companies can attract more customers from review sites; therefore, it is critical to have a business profile on top review platforms (Yelp, YellowPages, Google Business Profile, Industry-specific review sites, etc.) where your potential clients can find you quickly and easily. 
2. Find the Right Time to Ask
It is never a good idea to ask customers for reviews while they're in the middle of a transaction, are experiencing problems on your end, or are simply new to your business trying to learn more about you. There's always a suitable time for it.
Practically, you would want to get reviews from the clients who have their experience still fresh in their minds. As a result, the best time to request a review is after completing a customer onboarding or a transaction and after client expectations have been met, or after post-sales issues have been fixed.
So if you want to receive great reviews from your clients, you must meet clients' expectations and ensure a simple and delightful user experience. 
A positive onboarding process can help you get positive customer feedback, and where else could help you achieve that other than our client onboarding software, Clustdoc. 
Asking for reviews manually is a time-consuming task and generally not recommended. With Clustdoc, businesses can now automate review processes via the two features named URL redirection and Clustdoc Online forms, which makes them easier to scale and ensure continuity for review requests. 
Using the URL redirect feature of Clustdoc, you can guide end-users to a thank you page, a survey page, or a Google review page where they can leave online reviews after a conversion. 
Similarly, via Clustdoc online forms, you can create dynamic and easy-to-use forms to collect information from clients.
3. Request Reviews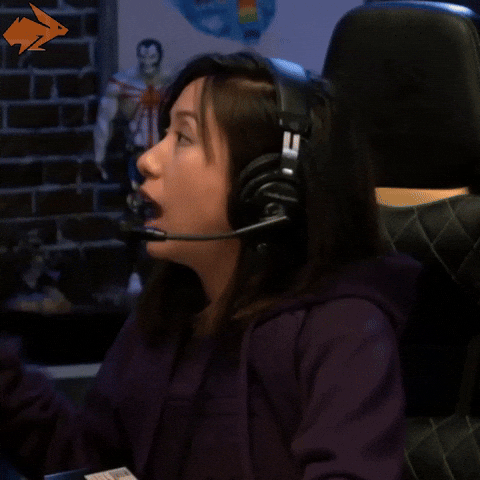 Let your customers know how valuable their feedback is for your business. You can't force them to review you but at the least request. The best way to encourage customers to write reviews is by asking them to do so. 
Your customers will be happy to rate you and leave reviews sharing their experience with your business, product, or service more often than you think. 
While directly asking for reviews can be awkward or appear self-serving, it is not a bad idea to do so when done politely. 
Many satisfied customers do not leave reviews for businesses because chances are they won't remember to do it, might be unaware of how to leave a review, are too busy, or are not interested in doing so. However, when asked, 70% of the customers will leave a review.
4. Have Conversation with Clients
Communication is crucial as it conveys clear and strong messages about your company. It is the sole factor that can help businesses reduce the consumer gap (the difference between customer expectations and customer perceptions). 
Effective communication not only fosters a good working relationship between a company and its staff, but it is equally essential between a business and its clients.
The primary reason for a bad customer experience is often poor customer service that is directly influenced by communication. 
Businesses must maintain contact with their clients and keep them updated about new service features and updates as a lack of information can turn off the consumers.
5. Follow-Up on Your Request
Customers love the idea of being heard, and therefore it makes them feel special. 
No matter how many new potential clients you can attract in the first place, if you do not follow up with them on a timely basis, they will not become your customers. This pretty much explains why follow-ups are so important!
Engaging regularly with clients is indeed the most crucial part of any of your marketing strategies because it allows you as a business to understand their requirements and expectations from your company. 
If you make your customers feel unimportant or leave them in difficult situations, they will not stay. As a result, you must follow up on client requests regularly. 
And if you are still not engaging with your clients, let me point out that you are leaving a significant sum of money on the table. 
Automation makes businesses operate frictionlessly. You can achieve this using Clustdoc. 
The software makes it easier for you to follow up with your clients and allows you to trigger notifications or actions automatically. The triggers and actions can then be combined to automate your work. To learn more about Clustdoc automation features, please read: How Automations Work in Clustdoc.
6. Monitor Reviews on the Platforms
At present, reviews are gradually replacing friend recommendations and word of mouth. 
Every business has become review-centric, and its influence is so much that a single bad review can completely ruin a company's online reputation. 
The first thing that catches a readers' attention while reading reviews is the star ratings. Star ratings indicate the level of customer satisfaction from a business. Most people would not even consider reading the reviews if it is not high enough.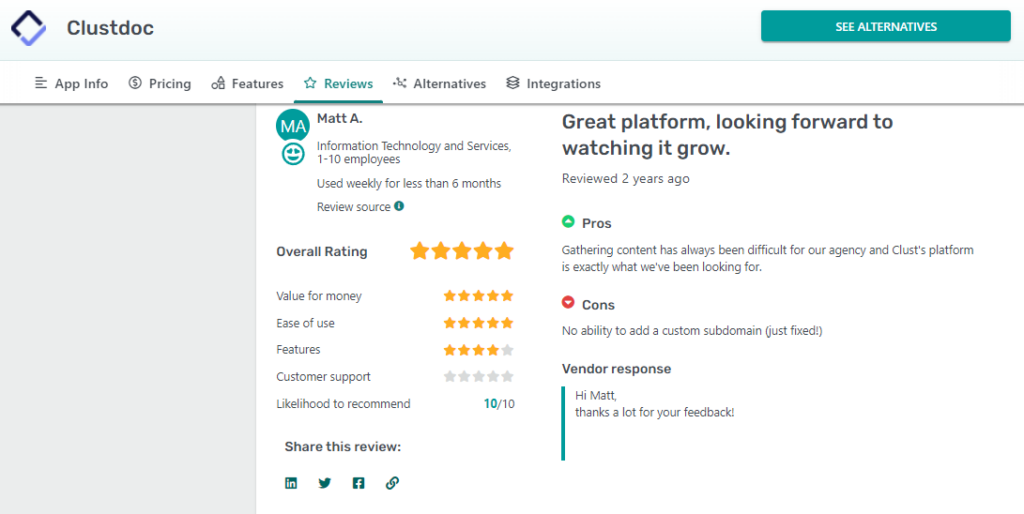 To get high online ratings, you must keep your business profiles updated on all review platforms and monitor your customers. By doing so, you can measure customer satisfaction and improve your customer relations.
7. Reply to Reviews (Negative Ones too)
Responding to reviews is a way of acknowledging and expressing appreciation towards the customers. Reviews, both positive and negative, when responded promptly, show that you value your customers and their feedback. As a result, the customer-business relationship becomes stronger.
Businesses in all industries need to learn how to respond to client feedback because the way you reply can make or break your relationship with your audiences. 
Furthermore, unanswered feedback reflects that you are negligent about your relationship with the customers or that you are uninterested in what they say about your company. Therefore you must attend to each and every feedback.
Negative reviews are just as common as positive reviews. Both types of reviews are important. Positive reviews are essential because they enhance brand confidence and loyalty.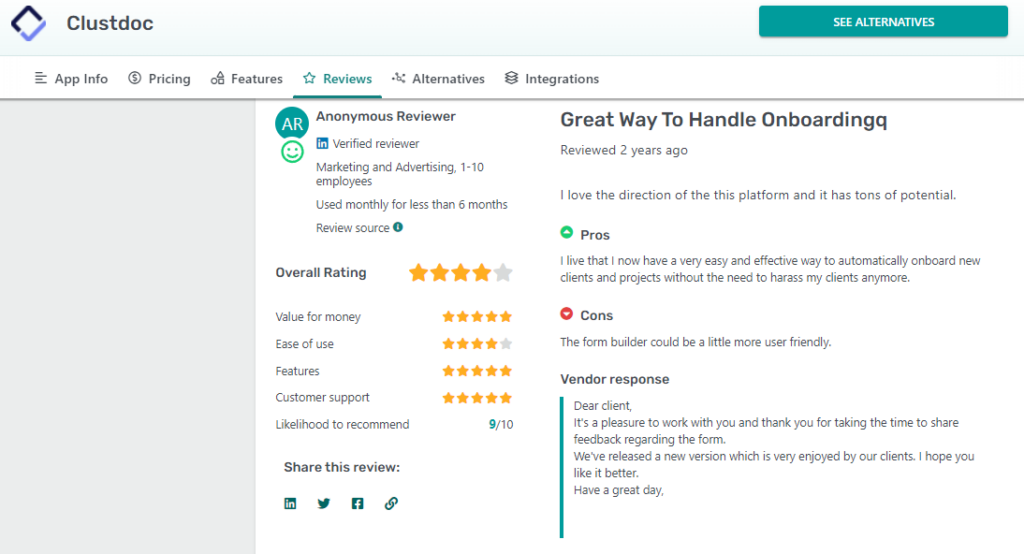 You must show gratitude towards the positive feedback as it makes clients feel that their reviews have added value to your company. 
On the other hand, negative reviews should also be addressed because they are crucial for improvements. If you are excellent with your words, you may transform a bad review into an opportunity to demonstrate that your company cares about the consumers.
8. Share Positive Reviews
We love getting such positive feedback about #Clustdoc! Do you want give your customers the ultimate #onboardingexperience? 😉
Check out Clustdoc if you want to get started with your onboarding 👉https://t.co/lSzgt3Bitl pic.twitter.com/x6n6f9GX9i

— Clustdoc (@Clustdoc) February 3, 2022
Sharing positive reviews on social media or testimonials on your website is an excellent way to build trust and improve brand reputation. It is one of the ways businesses can provide social proof of their credibility to prospective customers. 
Note: You can have a look at Clustdoc Testimonials for some ideas.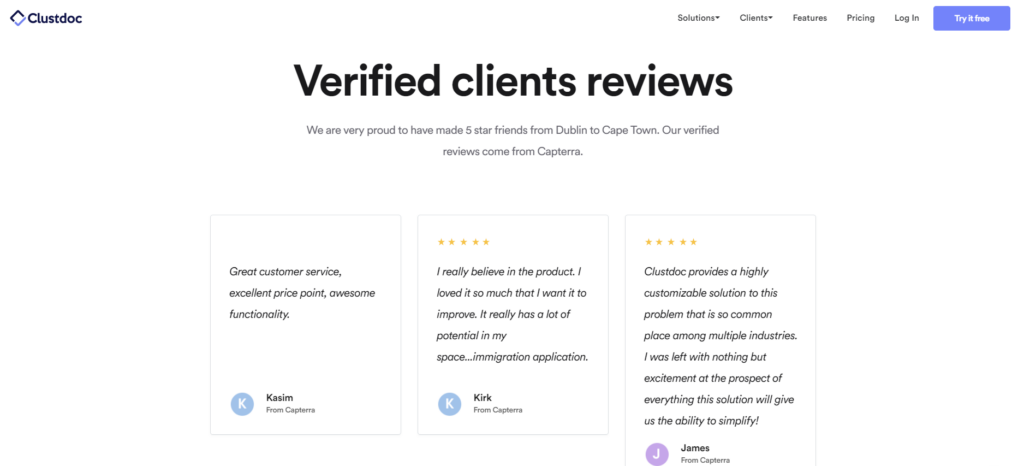 Research shows that 88% of consumers trust online reviews as much as personal recommendations, and positive reviews and testimonials sway 72% of them.
Furthermore, testimonials add more weightage to a consumer's decision as they naturally trust other consumers like them more than they trust your marketing efforts.
9. Start Right with Onboarding
As an organization, you are well aware of your mission, vision, values, and goals, but your prospective client isn't. All they have is guesses in their minds, and amidst that, the first impression is what gets them to discuss your products and services in-depth. 
In fact, the first impression sets the tone for your future business relationships, and positive impressions are what result in helping build close and harmonious relationships with new customers and shaping long-lasting business relationships.
 The aim is to set customer expectations actively and accurately, which must then be regularly met. An ineffective onboarding process can increase customer churn. 
It is crucial to have planned and proper onboarding strategies to leave a positive impression on the clients. 
For that reason, professionals from more than 70 countries prefer using Clustdoc onboarding software to help them digitally transform their business.
Improve Online Reviews with Clustdoc
Clustdoc is a new approach to handle the pre-project phase and onboarding workflows. With this client onboarding software, you can see immediate results in your customer experience.
You can efficiently automate workflows while providing a high level of compliance. The all-in-one customizable customer portal allows for the secure and confidential collection of information, documents, and signatures. 
Additionally, the customer portal aids in increasing customer engagement and conversion rates and gives a 5-star customer experience.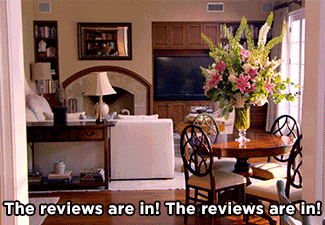 So if you are having trouble getting great reviews from new clients for your business, switch to Clustdoc today and let us handle the rest! 
You can also read client stories on their experience using Clustdoc to help you make a more informed selection because client feedback and its importance are all that we have covered in this guide. 
Check out Clustdoc now and see your customers leave wonderful reviews about your onboarding process and eventually an exponential number of customers coming your way.
You can enjoy all the features of Clustdoc at no cost for the first seven days once you register on Clustdoc.
Now that you're here
Clustdoc is a client onboarding orchestration platform used by modern teams around the world. With Clustdoc, you can run automated workflows for requesting, reviewing and verifying new customers' data, documents and contracts – without juggling between tools. 
If your team is managing new customers using emails, spreadsheets and PDFs, you'll probably love using Clustdoc.