5 Frustrating Digital Onboarding Mistakes Customers Notice Most
Since you are here–
You definitely work very hard to make sure your clients are happy.
You constantly bring changes to your product, analyze your KPIs, take customer feedback, and focus on client success.
Providing the best client experience is probably all that you think about day and night.
But still, clients are unexpectedly quitting your service.
Most of them stop using your products without any hint.
Statistically, 32% of customers stop using a product or service they loved only after one bad experience. 
You have figured out that something is not right.
You have gone through all the possible reasons that could be leading to customer churn.
And you have already realized that the problem lies with your onboarding.
But what mistakes are you making?
In this article, you will find the most common frustrating onboarding mistakes that you could be making and customers are noticing them. 
As everyone's favorite entrepreneur Steve Jobs said, "Some mistakes will be made along the way. That's good. Because some decisions are being made along the way. We'll find the mistakes. We'll fix them."
So, get ready to fix the mistakes that have already been made. 
In this article, I'm going to show you how to eliminate those mistakes so your clients will love you even more.
Working with customers calls for a great deal of patience and understanding. Businesses must recognize that consumers have different personalities and that they need to mold their onboarding process in a way that their clients can grasp. For that, it's crucial to define roadmaps for each new customer concisely. 
Getting started with a new product or service can be overwhelming for the customers. And if they do not understand how to get around the process, they'll probably lose interest. Unclear processes create confusion, dissatisfaction, and frustration in customers leading to stress and eventual customer churn. 
To avoid friction that could lead to churn, businesses need to provide educational services throughout their customer journey. In fact, customers that find your services easy to understand are less likely to leave in the long term. Hence, it is important to put constant efforts and monitoring into making the customer onboarding process easy. 
A survey says that when making a purchase decision, nearly 63% of customers consider the company's onboarding program. As a result, if your company lacks in providing a satisfactory customer onboarding program, you may lag behind your competitors.
How to implement a better onboarding process?
Keeping track of the onboarding process manually can be time-consuming and hectic. The easiest approach to make it easier is to use the right tool to help you automate your processes, including planning and managing the client onboarding process.
There are many companies offering customer onboarding software, and therefore it is never too late to opt for one. But here's what makes Clustdoc different from existing software in the market. 
From the first stage of onboarding to signature and everything in between, Clustdoc helps companies streamline every aspect of the customer journey.
Clustdoc provides a top-notch onboarding experience and is the easiest way to onboard new consumers. This easy-to-use platform lets you welcome new clients and obtain the preliminary information you require before beginning working with them.
Clustdoc's safe, flexible, and professional features and services with assured advantages have made it a go-to customer onboarding software for professionals in 78+ countries.
Customer service is the top priority of most businesses today. It has become an essential component of all businesses regardless of their industries. Poor customer service negatively impacts a business translating to fewer customers and lower sales and profits. It has been discovered that a quality relationship with customers, when prioritized, can grow a business revenue by 4-8%. 
According to the Statista Research Department, during a survey in 2020, it was found that bad customer service caused 40% of customers to discontinue doing business with a company. 
While there are many aspects to good customer service, one of the most important is a fast response. 
A fast response is critical for organizations because it keeps them informed about issues their customers are facing and allows them to correct those mistakes in as little time as possible.
A positive correlation can be noticed between faster response time and higher consumer satisfaction. The customers highly appreciate faster replies because it makes them feel as if they are valuable to the organization. 
Long response times have been associated with customer frustration and low rates of satisfaction. The recommended average answer time to customer emails is one hour; hence an answer to a query is considered wonderful if it arrives within an hour. Customers also believe that companies valuing their time are the most important thing a company can do. 
Reduced response time is a proven way to enhance your business reputation and make your customers happier. Like a few decades back, customer service is no longer limited to call centers only, it has significantly grown over the years, and most businesses now have their in-house team that handles this crucial part. 
How to shorten response times?
While a quick response is what customers expect, it is useless if the reply adds no value. Businesses must choose communication channels that work best for both their business and their customers. With Clustdoc's secure messaging system, you can meet your customers' expectations while making no compromises in your own business. 
You can additionally organize all messages to/from recipients and team members and keep track of the conversations and history, all while providing valuable responses to the client requests.

The Clustdoc software includes a secure inbox system that allows you to centralize all internal and external messages in one secure location. This feature allows you to easily respond to customers and team members while also being notified of new mentions and messages.
3. Overwhelming Information
Customer onboarding is a nurturing process. An exceptional onboarding procedure involves helpful guidance and support, step-by-step tutorials, organized information, and so on. 
Getting new users and customers acquainted with your products and services is exciting, but let me put this straight: dumping a lot of information all at once is not a good way to start a customer-business relationship!
While some businesses may believe that faster services yield better and quicker results, it isn't true in this case; clients will be overwhelmed with the ocean of information with no idea on how to mentally organize instructions sent to them.
Information overloading is bad also because it slows down and negatively impacts decision-making processes. And trust me, the least you'd want as a business would be for your clients to lose track of the priority or order of things and abandon everything, including your services!
Instead, I suggest businesses consider each customer a beginner and go slower and step-by-step in a hierarchical manner, beginning with the fundamentals and working their way up. 
And not to forget, the happier your customers are with your assistance, the more they will invest their time in learning about your products and services!
How to better organize information flow?
A client onboarding portal can assist firms in saving themselves from making information overloading blunders. Clustdoc exhibits more than just a usual client portal. It's a robust client management software that you can use on a daily basis in collaboration with your team. 
Using Clustdoc, businesses can walk their new customers through business policies, company values, and other important information without making it appear overwhelming. The software, therefore, enables businesses and their customers to proceed with much clearer and organized instructions without juggling between tools.
4. Sticking to Paper forms
Despite advances in technology's speed and breadth, 82 percent of businesses still spend billions on paper, and only the rest of 18 percent have gone paperless. With the paperless approach, enterprises are ensuring the security of their organization and customer data. 
Outdated paper forms are still being used by the majority of businesses around the world, and this is one of the most prevalent onboarding blunders that customers often notice.
Customers may turn off or become frustrated if they have to sign and fill out too many forms and documents. Additionally, paper-based work entails a lengthy procedure of arranging meetings and participating in other official works. It is not as secure as paperless work, and it can as well be difficult for organizations to manage paperwork. 
Businesses must upgrade to current market trends to increase frequency, safeguard documents from theft, loss, or natural disaster, improve quality of work, minimize redundancy, and for other unavoidable reasons. 
Digitalization has become the preferred method for many firms to interact with their customers, particularly during COVID-19. So if you, too, are looking for a switch, then Clustdoc has got your back.
How to digitize the client journey?
Digitalization is a more secure, quicker, and cost-effective way for fast-growing businesses. Switching from paperwork to digitalization helps them in generating new growth opportunities. It is now a trend that is being accepted across industries. 
Clustdoc is a smarter fix that provides a digital solution to overcome issues generated due to paper works. Thanks to Clustdoc, document collection has never been easier than it is now.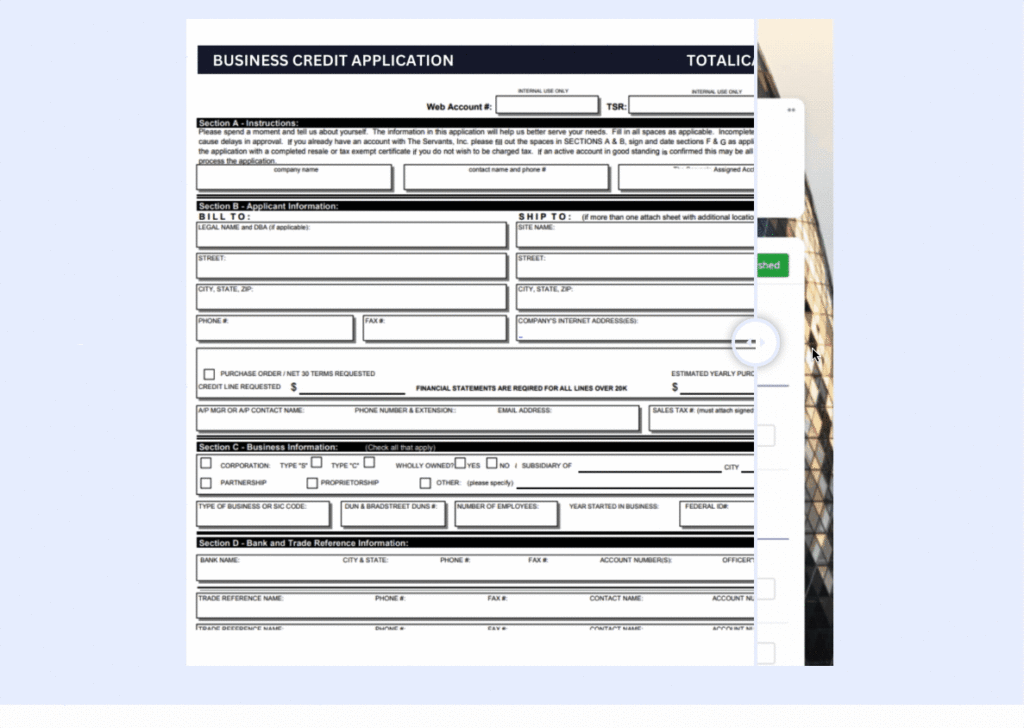 With this customer onboarding software, organizations can transition to a paper-free document collection process from day one. The software further allows its users to approve/reject document edits, create and validate e-contracts, have all the documents signed electronically, and collect customer information and requests. 
5. Neglecting Data Privacy
Customer Data privacy is one of the most crucial parts of business ethics. Data privacy has become a grave concern for businesses and consumers in this technologically advancing age. 
The increasing volume of customer data highlights the need for data security. Though the customer confidence in how companies handle their data is not high, it gives companies an opportunity and responsibility to better protect customer data and improve the overall experience. 
Violation of data privacy has numerous damaging consequences on an organization and its customers, the financial loss being one of the hardest-hitting consequences the businesses have to deal with. Other negative impacts of data breaches are reputational damage, legal actions, and loss of sensitive data. 
92% of consumers say that companies must be proactive about data protection. Therefore, companies that do not care about their customers' data privacy are more likely to lose their customers in the initial phase of the onboarding process. Additionally, among all the possible mistakes any business could make, mishandling of data is mostly the reason for the destruction of that business.    
How to ensure effective data privacy protection during client onboarding?
Clustdoc prioritizes privacy and helps firms protect client confidentiality. It is a secure and reliable solution for businesses and their customers that reassures potential clients while protecting their data and your business. 
Clustdoc has a friendly and modern interface that provides a secure file-sharing and messaging platform. This platform minimizes the risk of an information breach. 
Using Clustdoc, customers can submit data privacy requests and are informed about them before capturing their consent. On the other hand, with the built-in security features of the software and GDPR (General Data Protection Regulation) compliance for your business, you can protect your customers' data smoothly. 
You are also provided with transparency to professionally manage and scale company workflows, monitor incoming requests, and do so much more.
Start with Clustdoc Today
Customer onboarding is a journey that requires a significant amount of effort and hard work to get customers to use your products and services. 
No business wants to lose its customers due to common onboarding mistakes. 
Clustdoc is here to get rid of those mistakes in your business. 
There are so many reasons to use Clustdoc for the customer onboarding process. 
It is developed to manage internal and external teams. The Clustdoc application is accessible from any device. It provides features to automate workflows to improve operational excellence, encrypt data to protect your business and clients, help teams work smarter, and so much more. 
Discover more features of Clustdoc today and take the necessary actions to improve your business productivity and achieve your desired outcomes.
Now that you're here
Clustdoc is a client onboarding orchestration platform used by modern teams around the world. With Clustdoc, you can run automated workflows for requesting, reviewing and verifying new customers' data, documents and contracts – without juggling between tools. 
If your team is managing new customers using emails, spreadsheets and PDFs, you'll probably love using Clustdoc.
We are sorry that this post was not useful for you!
Let us improve this post!
Tell us how we can improve this post?