Business workflow automation is your top priority today. You want to establish an automating workflow that will help your employees to focus on crucial tasks and provide a seamless experience to customers. 
You are confused about whether a checklist software will solve your purpose. A report by the World Economic Forum states that 50% of business leaders are planning to speed up the automation of repetitive processes in their business.
A Gartner report predicts that by the year 2024, 69% of all managerial operations will be automated. Automating business operations can reduce manual tasks, increase productivity, and save 10 to 50% of employee time. 
A checklist software can reduce complexity and manual errors. Now, you know checklist software is what your business needs to efficiently manage your business workflow. 
In this guide, I'll walk you through choosing the best checklist software to organize and manage tasks, reduce errors, increase efficiency, productivity, and ensure your team no longer wastes time on manual tasks. 
So, let's go!
Who Needs Checklist Software?
Checklists are very prominent and effective in businesses. They give you an idea of what needs to be done in your business. Whether you are collecting documents or onboarding a client, you have to make sure you get everything right without missing any minute details, and that is why you need a checklist. However, the old and traditional checklists no longer serve their purpose in today's digital world.
A checklist software is a practical and hands-free approach to automate document collection and to-do lists. This tool will streamline repetitive tasks and manage your business workflow efficiently. 
In your day-to-day operations, your sales, marketing, or even operations team has to manage and analyze large amounts of client data. 
Along with a strong and clearly defined business process, you need a checklist to ensure everything is done in the way it should be done and promptly.
Automated checklists can create an easy way to carry out recurring business tasks without spending long hours on them.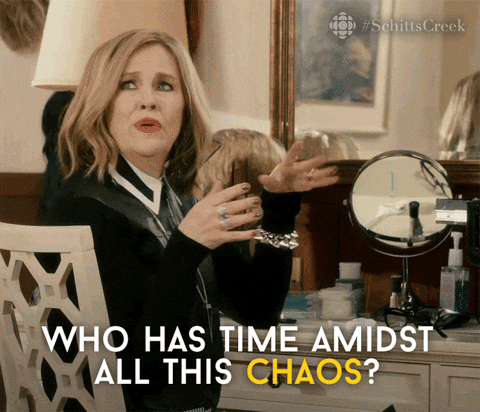 When to Use a Checklist Software?
Checklists are a game-changer when it comes to optimizing any business process. A systemized onboarding checklist avoids human error and gives a clear list of activities for your team to complete.
These tools offer a more efficient and easy-to-control method to process documents and create a streamlined step-by-step guide for your teams and clients to perform business tasks in the best way possible.
A step-by-step checklist should be an essential part of every business process to maintain business standards and ensure routine processes are followed and are not overlooked. 
At the end of the day, Checklist software offers traceability and accountability to identify bottlenecks through audit trails. 
You can implement checklists in all sorts of business practices such as sales process, HR, client and employee onboarding, accounting, and more. 
If you want to ease out your business processes and help your employees make most of their office hours, checklist software should be an integral part of your business.
At every stage of data collection and processing in your business, you should implement checklist software to reduce manual errors and speed up business processes.
The Businesses that Can Use Checklist Software
For business owners and managers, looking after the entire business can be a difficult task. You want to collect client information but you can not always remember what you need. Sometimes even your employee forgets that crucial document you need to start providing clients your services. There is too much information overload and managing them can seem a never-ending task.
Business checklist software offers you an easy way to standardize your business, create an efficient workflow system, and execute your plans properly. 
The use of checklist software varies with business teams and processes. No matter how big or small your business is, you need a checklist software to manage operations and create a frictionless business workflow. 
Your finance team, HR team, sales team, everyone needs a checklist software to manage documents and simplify business processes. 
Checklist Software is used in areas like real estate, healthcare, insurance, e-commerce, public services, legal services, and many more to create an efficient and hands-free day-to-day business process.
Check out this article I wrote on checklists you can use at work with clients, hires, and partners.
There are so many checklist apps out there but not all checklists are the same. Before you get a checklist software make sure they have the features that you need in your business.
The Must-Have Features in a Checklist Software
A checklist software can boost productivity and save the trouble of carrying out business tasks manually. However, the features you need to create an effective checklist may not be there in your checklist software. 
I'll list down a few features that your checklist must provide to ensure your clients have a seamless experience with the process with minimum manual effort.
Ease of use:

When I say all checklist software are not the same, I consider their difficulty to navigate through the platform as the prime factor. Many checklist tools are too complicated to handle and when you want to solve your business problems, you end up wasting hours just looking for that file upload feature. Checklist apps are built to simplify business processes and should be easy to use without any training.
Automation and intuitive checklist:

In today's digital world, you can no longer rely on manual systems. Your checklist should be intuitive and adaptive to your business process and data collection needs. 
Data collection:

Checklist software is built to collect documents and store them for whenever you need to access your files. Your tool should provide a seamless submission process to the clients and an easy-to-access portal for your team.

Automated reminders:

When a client misses out on a file or there's a delay in submission, your checklist app should send automated reminders to make sure they submit the details on time.
Team collaboration:

Your checklist software should provide your team with a space to collaborate on every submission or file returned by your clients. 
Analysis:

A checklist software needs to have a complete log of activities to ensure you are on the track of the business processes, identify bottlenecks, and bring changes to improve the workflow.
Integrations:

Checklist software should connect and integrate with other business tools to make workflow more efficient.
E-signature:

You'll need to collect signatures from your clients and stakeholders. Your checklist software should include an e-signature feature to make sure you can collect legally binding signatures without printing and scanning signed documents.
Ready-to-use checklist templates:

Checklist templates will save your time to create a new workflow from scratch for your recurring business processes. 
Overall, your checklist software should not only create a checklist and collect information, but also manage the entire workflow and keep track of all the tasks you complete. 
There's one checklist software that is more than just a tool to create checklists. Clustdoc as a checklist software offers all the features that you'll ever need in your business workflow to complete tasks and collect client information efficiently without any hiccups.
Why Should You Choose Clustdoc as Your Checklist Software?
Unlike conventional checklists, Clustdoc provides more value to your business creating a standardized and seamless business workflow in your company. 
With the ability to create customizable digital forms, checklists, and workflows; digital signatures functionality; robust security, and the ability to create various access portals for departments and handle the client-side of the document collection, Clustdoc is the best choice as a Checklist software.
Let's see some features that your Clustdoc checklist will include.
Online Form Builder, Files Request, Client Messaging
These top-of-the-line features provide you with complete control over your checklist. 
You don't have to share checklists with forms that clients will have to print and then scan and email after filling in details. Your clients can now fill forms in the checklist online interactively with speed and accuracy.
Using the form builder tool, Clustdoc makes it simple to collect information from clients.
The online form builder feature on the Clustdoc checklist is the easiest way to create interactive forms to collect data.
Depending on document requirements, you can include a variety of different items in your checklist.
One of the highlighted features of Clustdoc's checklist is the automated file request feature.
With Clustdoc's automated file request, you can quickly request clients to share the list of documents you need to collect from them. They can submit the files easily on the platform in their own time. And Clustdoc saves their information for their next visit.
You can easily request a list of files or documents, or share your own.
With Clustdoc's client messaging, you can send and receive messages to/from recipients and team members on the same platform.
Files Approval/Denial, Automated Reminders
Once your clients submit their documents, you can review the files Clustdoc has organized for you and approve or deny them easily.
Using Clustdoc's Reminder feature, you can schedule and customize automated emails and SMS follow-ups for the pending documents.
Our checklist application will send file received notifications, reminders and keep track of the document submission for you.
You don't have to call or email the clients to notify them about wrong file submission or pending documents like you had to do without Clustdoc.
Audit Trail, E-Signature for Legally Binding Signatures
The audit trail feature provides you with detailed logs of who accessed the checklist, changes that were made, and members that have access to the checklist. 
With a manual checklist, you will not be able to trace changes on your checklist.
Previously, you had to print, sign, and then copy or scan your documents. The e-signature function in Clustdoc allows you to sign all of your papers in a matter of minutes.
You can obtain legally binding e-signatures using Clustdoc instead of printing, signing, and scanning documents.
Once the signee signs the contract, it is protected with a timestamp and any changes made to the contract will be easily noticed. Any changes made to the document will void the document safeguarding you from any fraud and legal implications.
Comply with Security Regulations
Your checklist should comply with security regulations and prioritize client data safety.
Clustdoc checklists are compliant with GDPR security measures. Clustdoc follows the rules that the regulation defines to ensure that the company complies with them. 
Clustdoc checklist enhances both the security and accountability of your data and transactions.
Integrate With Other Tools
You can integrate Clustdoc with your favorite cloud storage solution and store your documents directly into your favorite cloud space. 
You can integrate Clustdoc with project management tools and other business tools to make your work even easier.
Huge Ready-to-use Checklist Template Library
Clustdoc offers a variety of checklists that you can use straight away in your business and provide an exceptional customer experience to your clients.
You can use these pre-made checklists and share them or tweak them according to your needs.
These ready-to-go checklists will make your job easy and streamline the process for your organization.
The Best Checklists for Your Business
Clustdoc provides a huge library of checklists for your business. I'll list down a few common checklists that you can use for your business today.
New employee onboarding is an important part of HR management. It is essential to set a new hire up for success. Onboarding is another chance to make a great impression on your new employee and lead them through the adaptation period. It will help the employee get familiar with your organization and open a dialog for questions and solving issues. 
Clustdoc provides a template for a new employee onboarding. This is a ready-made template, already structured to be adaptive to any company. It ensures a smooth entering and engaging process for the employee. This template also guides through 'where and how to start the onboarding process.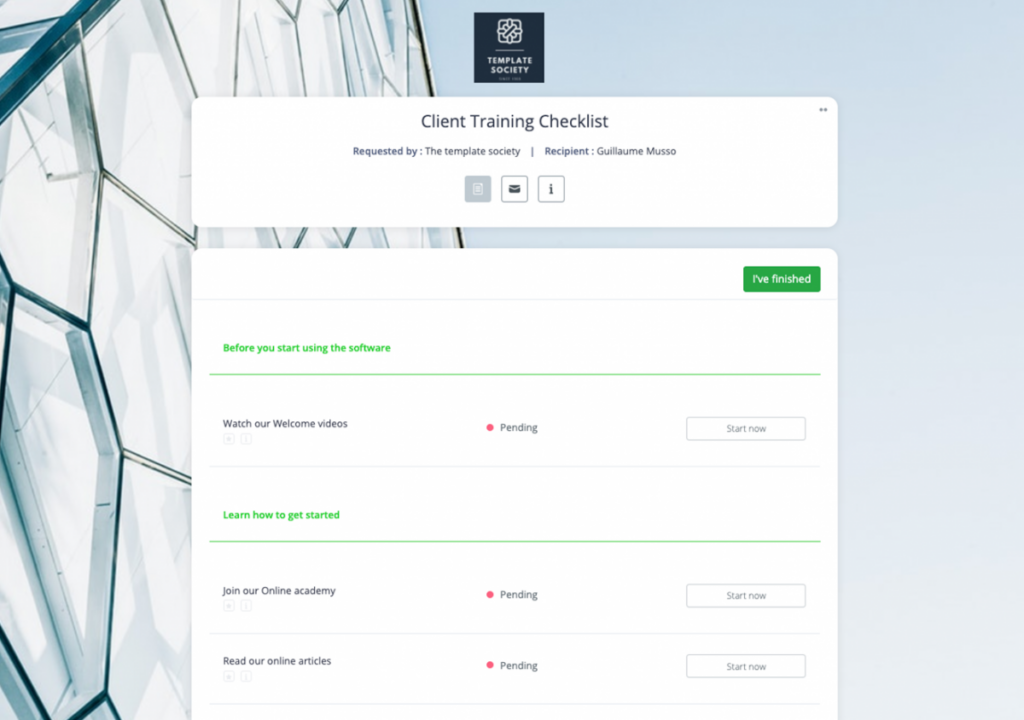 Clustdoc's client training checklist is the best solution to the client training problem. This is a simple yet robust online onboarding system to train your clients.
Using Clustdoc, your training checklist will increase accountability and help your team handle customers' queries along the way.
The clients will, without any hassle, understand your product and other details about your company and service.
With Clustdoc's smart client training checklist, you can easily and quickly build a unique one for your clients by editing our ready-to-use checklist.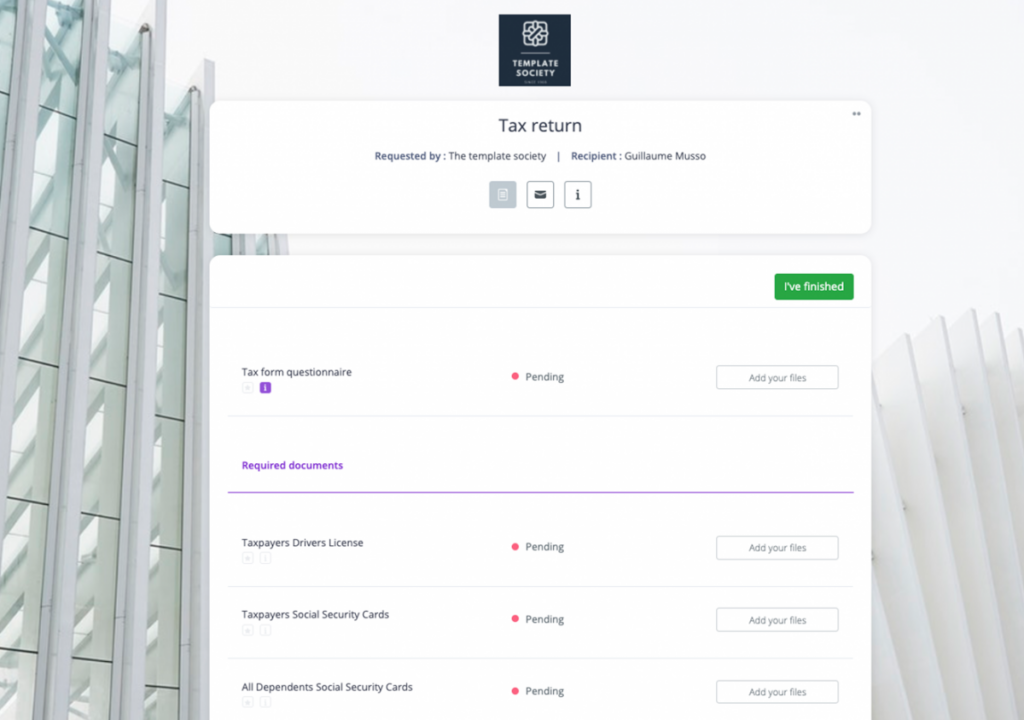 There are a plethora of documents that you have to submit to file tax returns. Personal and company details, bank statements, tax form questionnaires, and more, sometimes managing all these documents can be overwhelming.
The list of details and documents does not seem to end. You can not miss even small expenses to ensure you get the tax return you deserve. 
Clustdoc's tax return checklist is a comprehensive paperless solution that you can use to collect financial information in one place. 
It will significantly reduce the time you spend collecting and analyzing financial reports from different teams in your company.
You can gather vital records like tax form questionnaires, W2 forms, employment expense logs, license or identification cards, a summary of income, and other documents on the Clustdoc platform.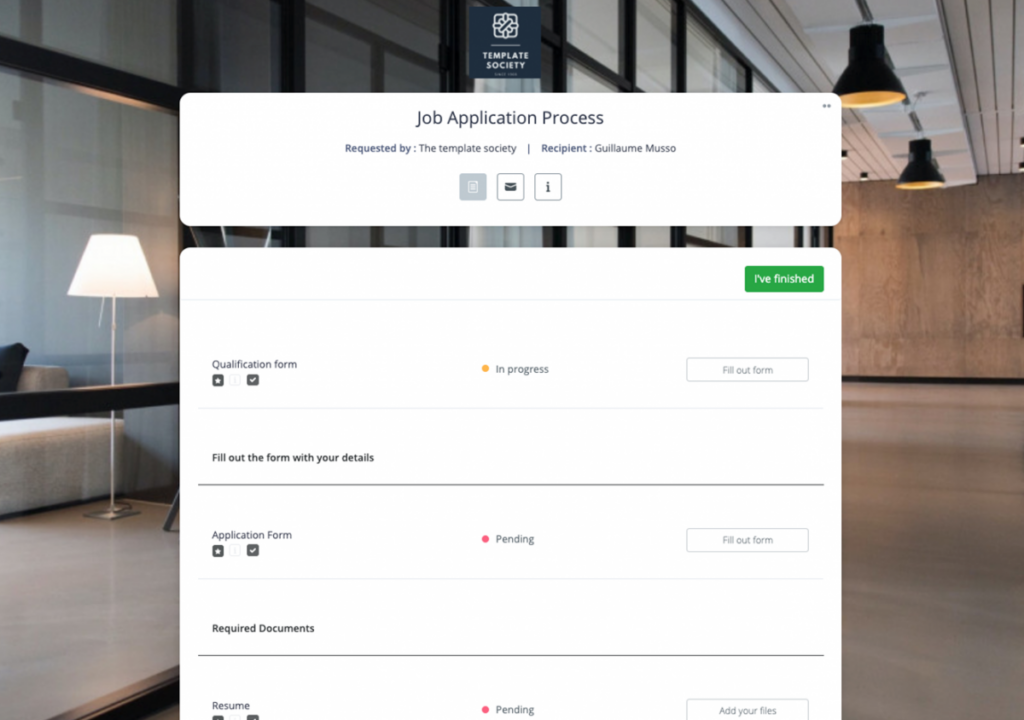 Hiring the right person for the job can be a tough task. You have to make sure the candidate fits well into the organization, has the experience needed to fulfill job responsibilities, and is dedicated to the growth of the organization. 
You need to collect candidate information such as personal details, education, work background, resume, cover letter, and more to evaluate their qualifications.
With a traditional checklist, it can turn into a lengthy and tiresome process. With this checklist, you can collect all the information you want in one place and speed up the hiring process.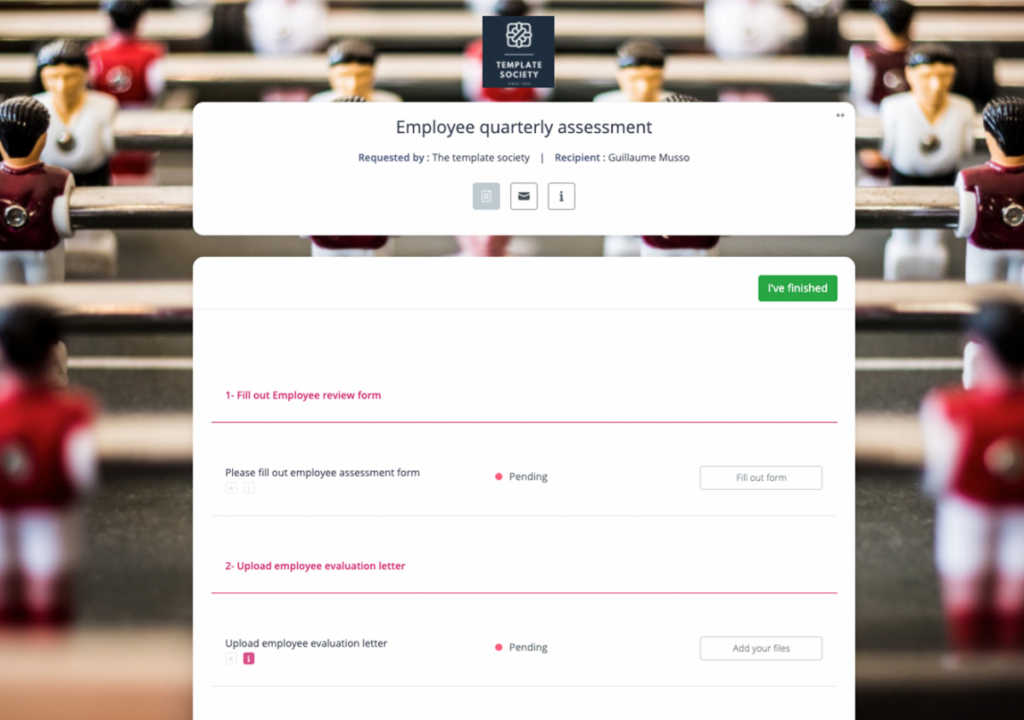 Evaluating the performance of employees is crucial for many purposes. You need to perform quarterly assessments to review employee performance, work productivity, and stability. 
With an employee assessment report, supervisors can guide employees for improvements and assist in making changes. 
You can use this employee quarterly assessment checklist to evaluate your employee's performance. 
There are hundreds of more ready-to-use checklists on the Clustdoc platform which you can use straight away or create your checklists with advanced features.
Impress Your Clients with the Best Checklists
Checklist software is essential to the success of all modern businesses. They can be utilized to manage daily business workflow like collecting documents, onboarding employees and clients, standardizing business operations, and more. 
Managing these recurring business tasks without a good checklist software can be time-consuming, expensive, and lower productivity.   
For the best outcomes, get an easy-to-use checklist software, provide all the features that you'll need in your checklists, and can create checklists that meet your business needs. 
Want to start with Clustdoc today, register with Clustdoc to use the checklists at no cost for 7 days. 
If you are ready to put your business on auto-pilot, get started today!